The Sapphire Natural Pool In Georgia That's Devastatingly Gorgeous
There aren't too many crystal clear blue water spots in the state of Georgia, which people do tend to crave more—especially when just seeing the sapphire water can transport them to what feels like a different country, or a tropical locale. While Georgia does have tons of watering holes, stunning waterfalls, and spectacular lakes for guests and residents to enjoy, there is one particular place that may make you feel like you're somewhere else entirely. Here's more on Radium Springs, a stunning natural oasis in Georgia.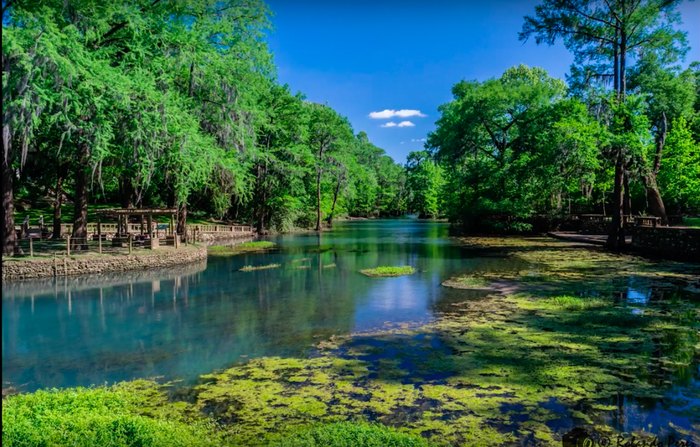 Have you been to the natural oasis in Georgia known as Radium Springs? What did you think of your visit? We'd love to hear all about it — be sure to share your experience with us in the comments below! Otherwise, if you're looking for more crystal clear blue water in the state of Georgia, then you'll love This Hidden Beach In Georgia Will Take You A Million Miles Away From It All.
OnlyInYourState may earn compensation through affiliate links in this article.
Address: Radium Springs, GA 31705, USA
Natural Oasis In Georgia
June 08, 2021
Are there any other natural springs in Georgia?
In addition to Radium Springs, some of the most popular natural springs in Georgia are known as Warm Springs. Located in Meriwether County, these natural springs have been used for centuries for their healing benefits. In fact, President Franklin D. Roosevelt used these pools to help treat the symptoms of polio. He then transformed the springs into a hydrotherapeutic treatment center for others who were suffering from polio. It's no mystery why Warm Springs is considered to be one of the seven natural wonders of Georgia.
Does Georgia have any natural wonders?
You bet! Georgia's landscape lends itself to stunning natural beauty, and there are 7 official natural wonders of Georgia. These destinations all belong on your bucket list, and they include Amicalola Falls in Amicalola Falls State Park, Okefenokee Swamp, Providence Canyon, Radium Springs, Stone Mountain, Tallulah Gorge, and Warm Springs. Tallulah Gorge is famous for being the deepest canyon east of the Mississippi River. If you're looking for a unique adventure, you can walk across the suspension bridge located 80 feet above the gorge.
What are the best swimming holes in Georgia?
Locals and visitors alike know that temperatures in Georgia can get pretty hot, especially during the summertime. Fortunately, there are plenty of places in the Peach State where you can take a quick dip and cool off. Some of the best swimming holes in Georgia include Panther Creek Falls, the Augusta Canal, Emery Creek Falls, Tallulah Gorge State Park, Aquaduct Park, Vogel State Park, High Shoals Creek Falls, Betty's Branch, Red Top Mountain State Park, and Raven Cliff Falls. Have you experienced any of these incredible swimming holes in Georgia?