The Longest Snow Tubing Run In Georgia Can Be Found At Margaritaville At Lanier Islands
We know what you're thinking already: "You're telling me the longest snow tubing run in Georgia is at the same place with those beautiful beaches and deliciously cold margaritas?!" Easy answer, yes. Margaritaville at Lanier Island turns into a winter wonderland every year with ice skating, inflatable parks, scavenger hunts, and even a 575-foot long snow tubing hill. You just have to see it to believe it!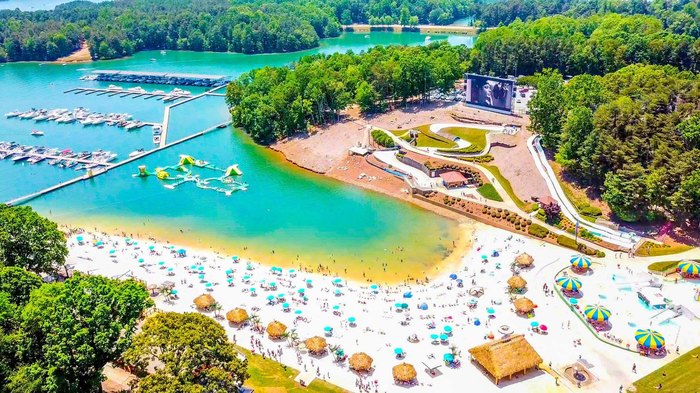 Have you ever been to Margaritaville during the winter before?! Share with us your thoughts in the comments section! Also to find out more about the park's hours of operation and how to purchase tickets, visit the website or Facebook Page.
OnlyInYourState may earn compensation through affiliate links in this article.
Address: Margaritaville at Lanier Islands Water Park, 7650 Lanier Islands Pkwy, Buford, GA 30518, USA
Snow Tubing in Georgia
January 23, 2022
Are there any ski resorts in Georgia?  
Georgia may not exactly be known for its winter wonderland-y-ness, but don't let that deter you – as it turns out, the mountainous regions of the state are home to some of its best ski resorts. You read that correctly – there are ski resorts in Georgia. In fact, there are more than a couple – there's plenty. Some of our favorites include places like Cannon Mountain, which has 39 marked pistes and is served by seven ski lifts. It's a favorite for snowboarders! Chestnut Mountain is another good one; it features 17 pistes and is served by eight lifts. Its most notable run is a mile long! The ski resort in Georgia with the highest elevation is Pebble Creek, at an elevation of 6,299 feet (the mountain is more than 8,000 feet in elevation). It's got three lifts and is 100% delightful. Best of all, these aren't the only choices – there are several more, each with its own pros and cons (okay, there really aren't any cons, except that ski season doesn't last all year round).  
What is winter in Georgia like?  
Georgia exists in what is known as a humid subtropical climate. This means the winters tend to be pretty mild, with little snowfall (at least in the lower elevations). Your best bet, as a snow lover, is the northernmost reaches of the state. As we said in the paragraph above, there are definitely options for skiing, so don't let the temperate temperatures goad you into ditching your winter plans. The average temperature in January tends to remain above freezing, though it still gets quite chilly – the 39 degrees is about what you can generally expect. Of course, from time to time, there's a winter storm that really knocks everyone's socks off; though uncommon, it has been known to happen. Did you know there's great winter hiking in Georgia? It's true – check out this article for some ideas.