The 26 Best Campgrounds in Georgia - Top-Rated & Hidden Gems
Known for peaches and Southern charm, Georgia just might be the most underrated state in the country when it comes to outdoor recreation… specifically camping.
The Peach State is a dark horse in terms of beautiful campgrounds, with its 50 unique state parks offering some of the most amazing camping in the country. Did you know that Georgia is home to one of the top Dark Sky Parks in the entire country? Or that the state was home to some of the most beautiful remote islands in the South?
The Peach State is full of surprises, and we're sure that the following list of the best campgrounds in Georgia will provide plenty of travel inspiration for your next camping adventures in this wonderful country of ours.
Best State Park Campgrounds in Georgia
Georgia is fortunate enough to be blessed with so many incredible state parks that choosing the location of your next camping adventure can be quite the tough choice! Luckily, there is something for everyone when it comes to camping in Georgia State Parks and here we bring you some of the best options the Peach State has to offer: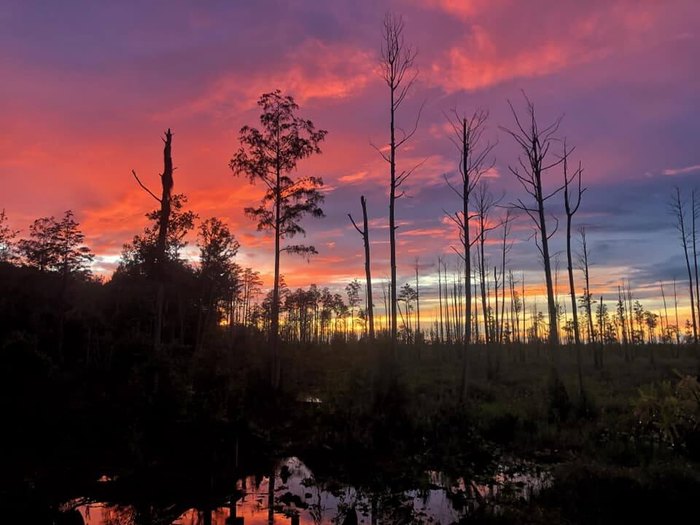 Best Primitive Tent Camping in Georgia
There are two types (or, pun intended, camps) of campers: bare-bones tent campers and those who prefer a more well-appointed, "glamping" kind of experience. Georgia State Parks have both camps covered; we'll get to the state's glampsites a little later.
But if you're a primitive tent camping purist, you'll be pleased by your options in the Peach State.
From rural and remote campgrounds to waterfront oases and budget-friendly gems, read on for the best primitive tent camping sites in Georgia.
Top Glamping in Georgia
Here in the Peach State, there's room for all kinds of campers, from primitive purists to those who prefer to "glamp" in the lap of luxury. In the case of the latter, we get you, and happily, Georgia is home to some truly next-level glampgrounds.
From decked-out yurts and fully loaded Airstreams to epic treehouses and tipis, there are some truly extraordinary luxury campgrounds in Georgia. Here are our favorite places to go for the top glamping in Georgia.
Best RV Parks & Campgrounds in Georgia
Over the past two years, RV interest and ownership has skyrocketed. With road trips offering a safe travel alternative and the ability to work from home more accessible than ever, folks have been gravitating towards #rvlife like never before.
Here in Georgia, some of the best state park campgrounds also double as RV parks, making glorious getaways within reach to all types of campers… literally.
Whether you've been on the fence about whether or not an RV fits with your lifestyle or you're a new RVer who's chomping at the bit to get camping, the following RV parks and campgrounds in Georgia offer endless possibilities.
Beach Camping on the Georgia Coast
The Georgia Coast is often overlooked in favor of Florida or the Carolinas, which is downright criminal as it offers some of the most stunning shorelines in the U.S.
And while we're all for a lux getaway at one of the state's myriad resorts, for a totally immersive experience of the Georgia Coast, there's nothing that compares to pitching a tent right on the beach.
Happily, the state is home to numerous jaw-dropping coastal campsites, including the following gorgeous spots.
Unique Georgia Campsites
For those seeking a camping experience that's extra in all the best ways, let the following fuel and fan the flames of your wanderlust.
From treehouses and tipis to equestrian-friendly campgrounds and mountainside retreats, the following are some of our favorite unique Georgia campsites that offer an experience you'll only find in the Peach State.
Summary
The camping in Georgia truly is on another level. Whether you'd like to hike, fish, appreciate towering waterfalls or explore caves, you'll be able to do it all – and more – in the Peach State.
And the best part?
The fun doesn't have to stop when the day is done, either; the campsites located within these pristine state parks and natural areas are some of the finest in the country.
From primitive campsites and RV sites to glampgrounds, yurts, and well-appointed cabins, plan your next outdoor adventure around these top campgrounds in Georgia:
Stephen C. Foster State Park
Providence Canyon State Park
Indian Springs State Park
High Falls State Park
Hard Labor Creek State Park
Toccoa Valley Campground
Pine Lake Campground
Okefenokee National Wildlife Refuge
Little Raccoon Key
Shady Grove Campground
Big Hart Campground
Andrews Cove Recreation Area
Timberline Glamping Company
Sweetwater Creek State Park
Tugaloo State Park
Hearthstone Cabins & Camping
Unicoi State Park
Stone Mountain Park Campground
Jellystone Park
Pine Mountain RV Resort
Jekyll Island Campground
Sea Camp
Skidaway Island State Park
Fort Mountain Horse Campground
Treetop Hideaways
Lost Indian Camp
OnlyInYourState may earn compensation through affiliate links in this article. As an Amazon Associate, we earn from qualifying purchases.
More to Explore
Camping in Georgia
What are the best year-round campgrounds in Georgia?
One of the great things about living in Georgia is that our generally mild climate makes year-round camping a possibility! Here are some of our favorite year-round campgrounds in Georgia for your next adventure:
Related Articles
Explore Georgia