Stone Mountain Park Campground In Georgia Will Be Your New Favorite Destination
We're blessed to live in such a peaceful and gorgeous state, and the best way to enjoy all of the natural beauty is to pitch a tent under the stars. The good news for residents or visitors to The Peach State is that Georgia campgrounds are some of the best along the east coast. If you're looking for a beautiful campground in Georgia in the woods, along the beach, and even in the middle of nowhere for some peace and quiet, you've come to the right state. The campground variety within the state borders is truly impressive. But this one particular campground in Georgia near Stone Mountain will be the perfect way to spend a weekend kicking back and relaxing in nature.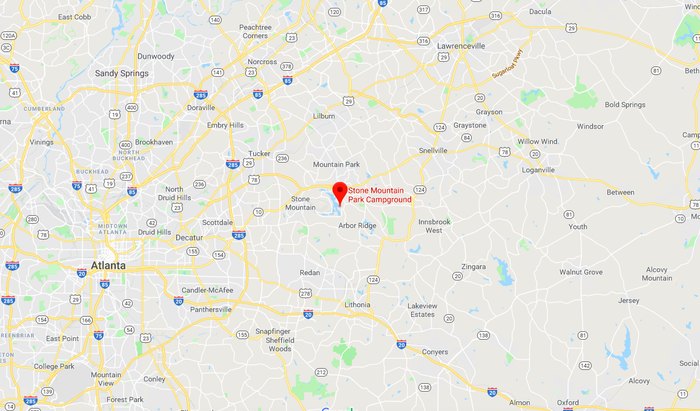 Address: 4003 Stonewall Jackson Drive, Stone Mountain, GA 30083
To reserve your campsite at Stone Mountain Park Campground, visit the website. Have you ever been camping here before? What do you think is the most beautiful campground in Georgia? Share with us your experience in the comments section!
Address: Stone Mountain, GA, USA
OnlyInYourState may earn compensation through affiliate links in this article.
Beautiful Campground In Georgia
August 02, 2020
What is the hottest month of the year in Georgia?
Before you set out to go camping in Georgia during the summer months, you should probably figure out the hottest month of the year first. It turns out that July is the warmest month in Georgia, with an average daytime temperature of just shy of 90 degrees. So if you want to camp in Georgia without the heat, then maybe waiting until September would be a good bet. Or, simply camp in July and find proper accommodations lakeside!
Where can I camp on the beach in Georgia?
Some of the best campgrounds in Georgia happen to be located right smack dab on the beach. Whether you're camping on the ocean or you are camping lakeside, beachside camping it quite popular in Georgia, especially during the warmer months. Sapelo Island's Cabretta Campground is an awesome place to camp right on the beach, meanwhile, Tybee Island's River's End Campground also features beach access. Check out these seven spots in Georgia where beach camping is allowed.
Where can I go camping in Georgia with no reservations?
Don't you just hate when you're trying to figure out where to camp in Georgia but all of the campgrounds are reserved? This happens often during the summer months when kids are out of school. In these cases, we recommend checking out those campgrounds in Georgia where no reservations are required. This means you can just roll up to the spot, first-come, first-served, and enjoy nature for the weekend without the hassle of having to make a reservation. A few of these campgrounds include Conasauga District's Cohutta Wildlife Management Area and Wildcat Creek in Dawson Forest WMA.
Address: Stone Mountain, GA, USA
OnlyInYourState may earn compensation through affiliate links in this article.