This All-Day Float Trip Will Make Your Georgia Summer Complete
Georgia is fairly well-known for having a plethora of fun and refreshing river tubing adventures."Shooting the Hooch" for instance has been a time-honored tradition that many Georgians take part in each and every year. But this year, we have a different type of river trip, one that will steer clear of a majority of the crowds that take to tubing. This all-day float trip along one of Georgia's last free-flowing rivers will be the perfect way to spend an afternoon outdoors with the whole family. Ready to tackle some tubing in Georgia? Let's dive right in.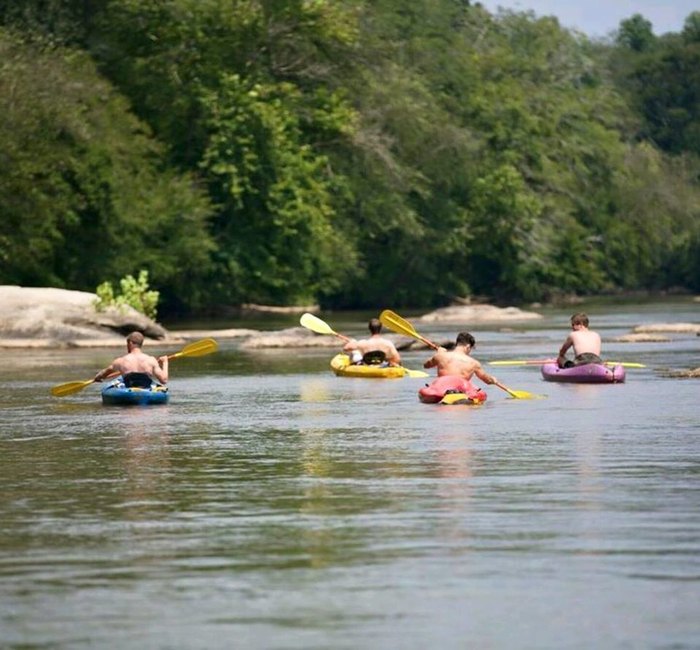 River trips through The Sandbar are available Monday through Friday 10 a.m. to 7 p.m. and weekends from 9 a.m. to 7 p.m. Guests must be signed up before 3 p.m. To find out more information, visit the website or the Facebook Page. To find where The Sandbar is on the map, use the address below:
Address: 3435 King Hall Mill Road, Bowman, GA 30624
Have you ever spent the day on Broad River? Share with us your experience in the comments section!
OnlyInYourState may earn compensation through affiliate links in this article. As an Amazon Associate, we earn from qualifying purchases.
More to Explore
Tubing in Georgia
Where is the best place to go tubing in Georgia?
Many visitors to the state may wonder about Georgia tubing adventures and exactly where the best opportunity to tube would be. While there are plenty of entry points for private Georgia rivers tours, the Chattahoochee River as a whole provides one of the most exciting experiences in the state. The Chattahoochee River is around 430 miles in length, which means that no matter where you are in the state, there are opportunities to hop right in and tube!
What else can I do besides tubing at Broad River?
There are plenty of things to do in Georgia at the Broad River that do not necessarily involve tubing. Many guests opt out of the tubing/kayaking adventure and tend to stick to more inland river adventures. Georgia horseback riding, for instance, would be a great way to enjoy the river, but stay dry along the edge. Planning a fishing trip along Broad River is another great way to enjoy the area and have an outdoor adventure. With plenty of trail systems along the river's edge, hiking, too, has become a welcomed pastime for many visitors to the area. There are even a few locations where primitive camping along the river is encouraged!
Does Georgia have clean rivers? 
For guests to the Peach State wondering about the cleanliness of the water, have no fear. Georgia has 14 different river basins, all of which remain an exciting way to spend an afternoon. While some rivers may be more well maintained than others, residents and visitors alike rely on the Georgia river systems to stay cool during the warmer summer months. Georgia businesses and policy-makers understand the importance of clean, plentiful waterways which is why it is always a priority to maintain the integrity of the rivers in Georgia.
Related Articles