All The Waiters Dress Like Steampunk Characters At The Toothsome Chocolate Emporium In Florida
Visiting a restaurant that goes all out in terms of decor, food, menu, and even costumes can often level up the entire meal, especially for the kids. If ever you're around Orlando, you'll know that you're about to dine amongst characters, especially Disney characters. However, at The Toothsome Chocolate Emporium in Florida, you won't find any Disney characters per se, but you will find that the servers are all dressed as Steampunk characters, which just makes the experience that much more enjoyable.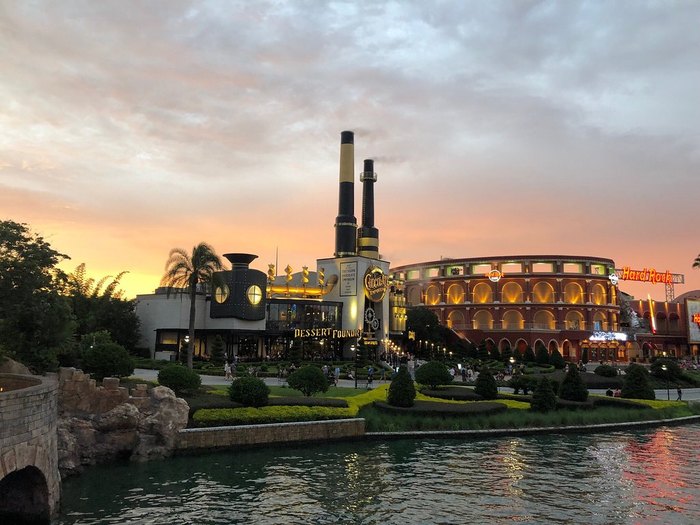 Have you ever dined at this whimsical chocolate shop? If so, we want to hear all about it! Share with us your experience in the comments section! And if you know more amazing themed restaurants in Florida, nominate them for a chance to be featured.
If you want to experience more of the best chocolate shops in Florida, take this delightfully sweet road trip.
Address: 6000 Universal Blvd, Orlando, FL 32819, USA
Toothsome Chocolate Emporium In Florida
June 07, 2020
What are the best chocolate shops in Florida?
If you have a mighty sweet tooth, you're in luck! We know all about the best chocolate shops in Florida. If you've never visited Hoffman's Chocolates, you should add it to the top of your list. This sugary wonderland is located in Plantation, and it's full of whimsy and fun. They sell more than 70 different kinds of candies, and each one is tempting and delicious. After you experience Hoffman's, visit Schakolad Chocolate Factory. With locations in St. Petersburg, Fort Lauderdale, and Davie, it's never been easier to satisfy your chocolate cravings. If you visit at the right time, you can even take part in a personalized chocolate making workshop!
What are the most quirky restaurants in Florida?
Shake up your dining routine and visit one of the fun and quirky restaurants in Florida. At The Gulf on Okaloosa Island, you can dine inside a converted shipping container. You'll love the tropical atmosphere and vibrant surroundings. The Bubble Room, located in Captiva, is another unique restaurant you should visit in Florida. This colorful dining destination will fill you with joy. Everywhere you turn, you'll see unique movie memorabilia and one-of-a-kind decorations.
What are the best themed restaurants in Florida?
For a fun dining experience the whole family will love, visit Jock Lindsey's Hangar Bar. This plane-themed restaurant in Lake Buena Vista is like nothing else. This eatery is packed with rugged charm and adventurous atmosphere. Really, eating here is like embarking on an adventure. For a Jurassic meal, visit T-Rex Cafe. This dazzling restaurant is located in downtown Disney, and it will transport you to another land.
Address: 6000 Universal Blvd, Orlando, FL 32819, USA