A Trip To This Marvelous Outdoor Market Is Unlike Any Other In Florida
Robert Is Here is so much more than a fruit stand. Its roots go back to 1959 when a 6-year-old Robert sold cucumbers for his father's farm. Robert worked at the stand every day before and after school, and before long, business was booming. At the age of 14, he bought his first 10 acres of land and planted an avocado grove.
Today his stand in Florida City has grown to epic proportions, with a fruit stand specializing in exotic fruit, a farm, an animal viewing area, a splash park/picnic area, and live music. The store has also expanded to the online marketplace.
Robert Is Here has been featured in publications across the country. If you've ever wanted to try something new or a certain odd-looking exotic fruit, now is your chance. How about a lovely magenta Dragonfruit, a massive spiny Jackfruit, or the truly strange and oblong Monstera Deliciosa, that tastes like a combination of banana and pineapple?
Don't leave without a homemade milkshake made with fresh fruit. After exotic fruit, this is what Robert Is Here is most famous for. You can also take home a fresh Key lime pie or a few jars of jellies or preserves.
Check out a few photos of what you'll find at this unique Florida attraction: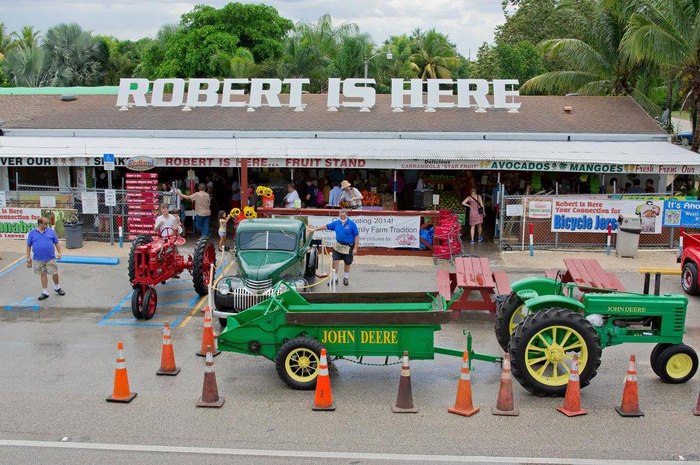 Unfortunately, the stand is closed September and October, but it reopens in November, daily from 8 a.m. to 7 p.m. Visitors can enjoy live music from 2 p.m. to 6 p.m. on the weekends. The address is 19200 SW 344 St. Homestead, FL, 33034, and you can visit the website for help finding Robert Is Here.
Love shopping outdoors? Check out our list of the 10 Must-Visit Farmers Markets In Florida.
OnlyInYourState may earn compensation through affiliate links in this article.