Here Are 5 Of The Worst Hurricanes In Florida History
The Sunshine State is a wonderful place to live and is celebrated for its warm weather and beautiful scenery. The downside of Florida's coastal locale, though, is that the state often finds itself in the eye of many a tropical storm. If you live in our state, you have probably experienced a hurricane — at least to some extent. Today we're recapping some of the worst hurricanes in Florida history: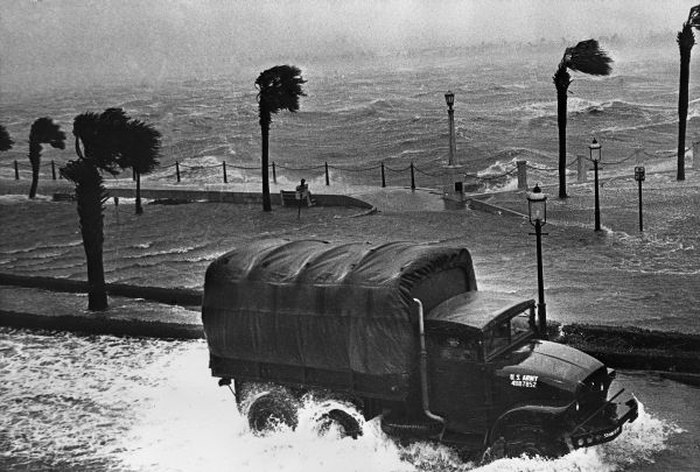 Have you — or someone you know — lived through any of the above worst hurricanes in Florida history? When hurricane season hits in Florida, it is best to take a deep breath and be prepared. Floridians are a strong and capable group, and we always pull through adversity. If you want a quick recap, check out the list below.
1. Hurricane Donna
2. Hurricane Cleo
3. Hurricane Andrew
4. Hurricane Charley
5. Hurricane Wilma
OnlyInYourState may earn compensation through affiliate links in this article.
Worst hurricanes in Florida history
October 03, 2022
When is hurricane season in Florida?
Hurricane season in Florida lasts from June 1 through Nov. 30, though much of this season passes by calmly and without inclement weather. But when hurricanes hit Florida — they hit hard, as evidenced by the above Florida hurricanes. In addition, sea levels is rising in Florida, which can put us at greater risk for water-related troubles. Being surrounded by water on nearly all sides means that things can get quite hairy with time. In fact, according to sealevelrise.org, the sea level around Virginia Key has risen eight inches since 1950 and has since accelerated. But, we've prevailed thus far, we'll do it again. Because despite the catastrophic levels of destruction hurricanes and rising sea levels cause, Floridans always find ways to overcome adversity.
What's one of the worst hurricanes in Florida history?
On Sept. 2, 1935, the strongest hurricane to ever hit the United States struck Florida with 185 mph winds and storm surges of 18 to 20 feet. The Category 5 hurricane formed in the Bahamas and slowly wrapped around Florida's west coast, obliterating the Upper Keys. Over 400 people lost their lives, including hundreds of veterans living in federally organized work camps. The rescue train that was headed to evacuate the camps was swept off the tracks, and the Overseas Railroad connecting the Keys was damaged beyond repair. Everything between Rescue was nearly impossible because of the intensity of the slow-moving storm, and relief was very difficult during the sweltering subtropical summer. The hurricane weakened somewhat before moving north and striking Cedar Key two days later. It caused more damage traveling across Northwest Florida, Georgia and the Carolinas, before it finally returned to the ocean. A memorial dedicated in 1937 still stands in Islamorada to honor the veterans and civilians who perished in this devastating Florida hurricane.
OnlyInYourState may earn compensation through affiliate links in this article.