Take A Thrilling Road Trip To The 6 Most Abandoned Places In Florida
What is it about abandoned places in Florida that capture the imagination of visitors and residents alike? You can't help but wonder what these ruins once looked like and how they fell through the cracks. Though some of the places on this list have thankfully been saved, they all are or were at one time abandoned and continue to hold some of that haunting feeling. This epic road trip can be completed in a weekend and makes for a truly fascinating time with friends.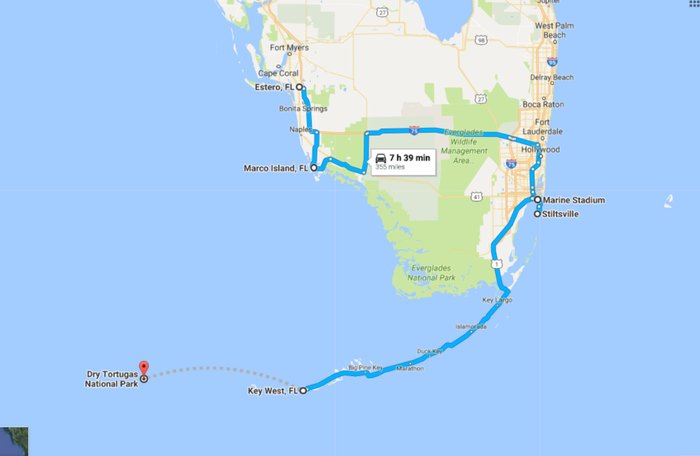 What do you think? Would you take this tour of some of Florida's most haunting landmarks? Share with us your thoughts in the comments section! Or if you have any other abandoned places in Florida that we should check out, make sure to keep us in the loop!
OnlyInYourState may earn compensation through affiliate links in this article.
Address: Estero, FL 33928, USA
Address: Miami Marine Stadium, 3501 Rickenbacker Causeway, Miami, FL 33149, USA
Address: Stiltsville, Key Biscayne, FL 33149, USA
Address: Overseas Hwy, Duck Key, FL, USA
Address: Dry Tortugas, FL, USA
Abandoned Places In Florida
February 01, 2020
What is the most famous abandoned place in Florida?
If you happen to take the road trip in Florida we've outlined above, then you'll be coming across some of the most fascinating abandoned spots in the state. It might be hard to determine the most famous abandoned spot in Florida because really, all of them are pretty well-known for visitors throughout the globe. But, if we had to narrow it down, Dry Tortugas National Park tends to be one of the most frequented abandoned places in Florida. You will need to take a ferry or plane to get there, but we guarantee visiting this little island gem will make you feel like you're in a tropical paradise.
What is the most haunted place in Florida?
Everyone loves a good scare from time to time, right? This is likely why visiting haunted places in Florida is such a hobby for many. Florida has so many fun haunted spots it is hard to just choose one. There is a haunted restaurant in Florida named Ashley's that will have you shaking in your boots. Or a hiking trail that leads to a haunted bridge, called Bellamy Bridge! But if you want to hit a ton of haunted places in one fell swoop, we recommend taking this haunted road trip in Florida for tons of epic spots.
Can I go ghost hunting in Florida?
Some of the creepiest places in Florida also offer up some unique ghost hunting opportunities. You don't need to be a professional in order to get in some fun ghost hunting adventures in Florida. There are some haunted places that will offer tours with a professional where you'll have a chance to witness your very own paranormal activity. But if you're really looking for a scary scene, we recommend this overnight ghost hunt at Monticello, Florida.