7 Of The Most Beautiful Fall Destinations In Delaware
Hey, Delaware, are you ready for fall? Make sure you jot down a list of the must-visit fall destinations in Delaware and mark your calendar! After all, it's only a short while after the start of autumn before holiday madness takes over our lives, so get out and enjoy the cool weather and gorgeous foliage of the best season ever until then. Let's go see why Delaware in the fall is the best version of itself: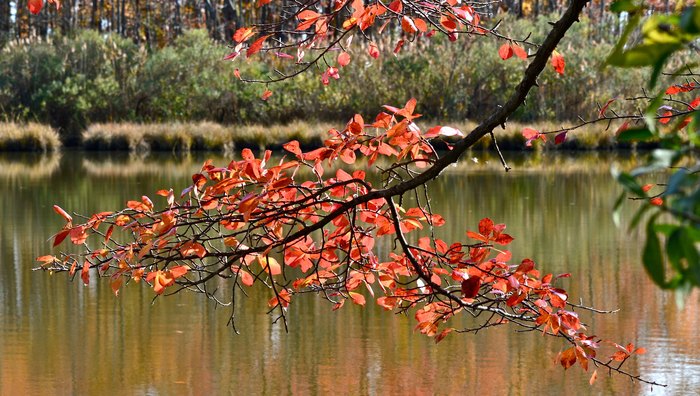 What are your favorite ways to enjoy autumn in Delaware? If you love hiking, check out some of the all-time best autumn hikes in Delaware to add to your bucket list.
Address: Bombay Hook National Wildlife Refuge Visitor Center, 2501-2599 Refuge Entrance Rd, Smyrna, DE 19977, USA
Address: Lums Pond State Park, 1068 Howell School Rd, Bear, DE 19701, USA
Address: Wilmington and Western Railroad, Wilmington, DE, USA
Address: Hagley Museum, 200 Hagley Creek Rd, Wilmington, DE 19807, USA
Address: Rehoboth Beach, DE, USA
Address: White Clay Creek State Park Nature Center, 1475 Creek Rd, Newark, DE 19711, USA
Address: Fifer's Farm Store & Kitchen, 1919 Allabands Mill Rd, Camden Wyoming, DE 19934, USA
Delaware In The Fall
August 18, 2022
What is fall in Delaware like?  
Fall in Delaware is a magical time! The temperatures are cooling off, the days are getting shorter, and shadows are getting longer – the perfect time for all sorts of fun seasonal activities. There are loads of awesome fall festivals in Delaware to turn into an annual tradition, as well as all kinds of fun events and activities. There are some truly amazing apple orchards in Delaware where you can get the best apple cider in the United States, and we also have lots of delightful corn mazes in Delaware to keep the kids occupied. Oh, and the colors – the colors are truly awe-inspiring.  
What is Delaware in October like?  
Typically, through the month of October, temperatures begin dropping steading and the weather in Delaware cools off. Our summers aren't ridiculously hot, so when the days get cooler, it's noticeable right away. One can generally expect a temperature change of about 10 degrees over the course of the month; the average high transitions from the low 70s to the low 60s. Low temperatures also decrease, obviously, from the high 50s to the mid-40s. October is when clouds start to gather and skies become a little gloomier, but we feel like that adds to the ambiance. October is the perfect time to embark upon some delightful fall hikes in Delaware, too.  
What kind of fall weather in Delaware can I expect?  
As we mentioned above, expect a drop in temperatures between September and November, and then a much more rapid drop in temperatures from November until January (which is typically the coldest month of the year in this little state). Rainy days decrease gradually as well, giving way to clouds and breezes and, eventually, snow flurries. Over the course of the month, we lose an hour and 13 minutes of daylight, which doesn't sound like a lot – but when it's suddenly dark much faster, and the nights are a lot chillier, you begin to notice!  
Address: Bombay Hook National Wildlife Refuge Visitor Center, 2501-2599 Refuge Entrance Rd, Smyrna, DE 19977, USA
Address: Lums Pond State Park, 1068 Howell School Rd, Bear, DE 19701, USA
Address: Wilmington and Western Railroad, Wilmington, DE, USA
Address: Hagley Museum, 200 Hagley Creek Rd, Wilmington, DE 19807, USA
Address: Rehoboth Beach, DE, USA
Address: White Clay Creek State Park Nature Center, 1475 Creek Rd, Newark, DE 19711, USA
Address: Fifer's Farm Store & Kitchen, 1919 Allabands Mill Rd, Camden Wyoming, DE 19934, USA