10 Amazing Places You Can Go On One Tank Of Gas In Delaware
One of the best things about Delaware is how small the state is. I've heard from friends in other, larger states about how they hear that their state has a super cool museum, or one of the best state parks in the country, but they haven't gotten to see it yet, because it takes an entire day (or more!) to travel to the other side of their state.
For Delawareans, the most we'd have to travel to get to any one of the awesome attractions in our state is about 100 miles, and for the majority of the state, we can be in the biggest city (Wilmington), the Capital (Dover) and then on the beach (Rehoboth) all in the same day, and it wouldn't even be that unusual. Try doing that in any other state! Another great plus to have such a small state is that we don't travel many miles to get to our favorite places. With gas prices rising this summer, that's a huge benefit to living and playing in Delaware.
For anyone new to the state or any Delawareans looking to explore the First State, we've created the ultimate Delaware road trip of awesome must-see places in Delaware that you can see using just one tank of gas. Save the map below and get rolling!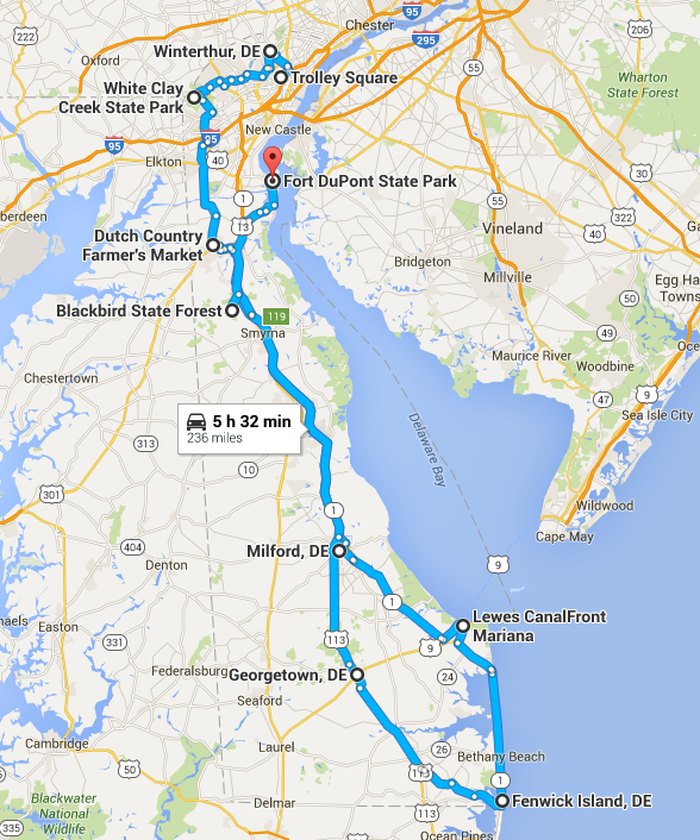 It's really incredible that you can go from a state forest to a beautiful beach in such a short drive – that's one of the reasons why we love Delaware! Are you planning a one tank of gas Delaware road trip?
OnlyInYourState may earn compensation through affiliate links in this article.