You Can Go Tubing Year-Round At This One Connecticut Attraction And It's Awesome
Have you ever dreamed of summer tubing or snowboarding? We are all familiar with Powder Ridge Park, an enjoyable winter playground for skiers, snowboarders, and tubers in Connecticut. But did you know that the park has a 365 synthetic snow area to extend the winter fun through all four seasons? No longer do you have to wait for the weather to cooperate to enjoy these amazing activities. Check out this newly updated attraction for one-of-a-kind year-round tubing, skiing, and snowboarding.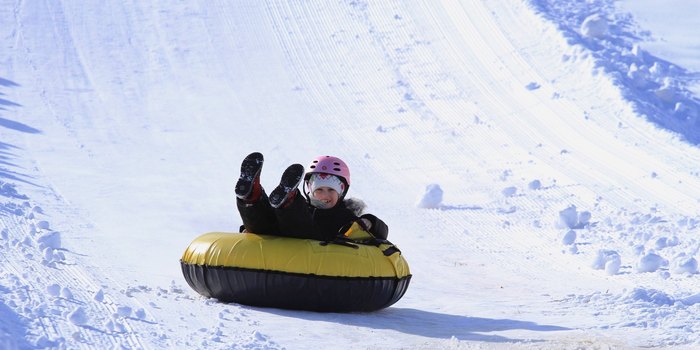 Are you ready to try year-round tubing at Powder Ridge Park? Or have you already sampled this fantastic new attraction? Share your experiences in the comments section below. For a delicious bite to eat after you're done hitting the slopes, check out these restaurants in the town right next door.
We hope you have fun out there!
OnlyInYourState may earn compensation through affiliate links in this article.
Year-Round Tubing At Powder Ridge Park
July 19, 2022
What is the synthetic snow at Powder Ridge Park made from?
The synthetic snow used at Powder Ridge Park for summer tubing is made from an advanced type of artificial turf. Plastic polymer "fingers" create a slick surface that doesn't require water and allows the person to turn and stop in the same way one would on snow. The "fingers" allow for better airflow, which prevents the tube, board, or ski from becoming too hot. (This is an issue for some forms of artificial snow.) This material is common all over Europe, and Powder Ridge was among the first to utilize it in the United States.
Is river tubing available in Connecticut?
River tubing is a popular activity in Connecticut. One place folks really enjoy is a lazy river along the Farmington River. Check out the article Take The Longest Float Trip In Connecticut This Summer On The Farmington River for a nice description. You can also check in with Farmington River Tubing's website for up-to-date information and pricing. This is a fantastic family outing during those hot summer days.
Are there water parks in Connecticut?
There are some great places to get wet during the summer months in Connecticut. One nice place to visit is Queasy Amusement Park. It offers much more than a way to cool off, but the water park is a nice feature. You'll find waterslides, summer tubing, and splash pads.
Brownstone Exploration and Discovery Park is a natural waterpark and a lot of fun. There are plenty of ways to get wet here, but the zip line might be the most adventurous! You can even rent or bring along your own kayak or paddle board to tool around on.
Ocean Beach Park is actually a beach, and for many, that's all you need for a dayof water fun. It offers quite a variety of other activities too. You will find a long boardwalk complete with many food options and arcade games. You will also find an Olympic size swimming pool and water slides.
Check out this article entitled These 5 Waterparks In Connecticut Are Pure Bliss For Anyone Who Goes There.  You will see something here that piques your interest.
If you have a favorite waterpark not mentioned in this article, please let us know!
Stay cool out there!
OnlyInYourState may earn compensation through affiliate links in this article.