Make Your Summer Epic With A Visit To This Hidden Connecticut Water Park
A quick search when you're looking for a water park in Connecticut will have you convinced that there are only two in our small state. But since we know that water parks come in all shapes and sizes, there are a few more places we could add to the list. For instance, Ocean Beach Park is more than a beach. It's also a great place to go for some water-themed adventures, and we're not just talking about a swim in the ocean. But its status as "just a beach" makes it a hidden water park. Don't let this place slip your mind when you're looking for some fun under the sun. Check it out!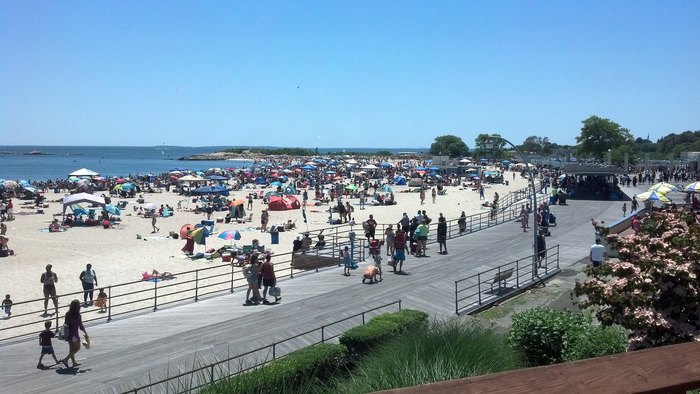 Ocean Beach Park may not be the only hidden water park in Connecticut. Check out our pick of these 5 Must Visit Water Parks now.
OnlyInYourState may earn compensation through affiliate links in this article.
Water Park In Connecticut
June 03, 2019
What should I bring to a water park?
Whether the sun is shining brightly or the day is overcast, you'll want to make sure to have plenty of sunscreen on hand. Since you'll be playing in the water all day, don't forget your bathing suit and you'll also want a towel for those times when you want to dry off and take a break. Speaking of breaks, bring a water bottle and make time to stay hydrated as you would during any outdoor adventure. Many people like to wear water shoes at water parks so your feet don't get scratched up or burned on the concrete. Sunglasses are another necessity, especially if it's a sun-filled day.
What are the best water parks in Connecticut?
We obviously love Ocean Beach Park in Connecticut for its slides, pool, boardwalk, and sandy beach right on the ocean. But Lake Compounce in Bristol is Connecticut's largest waterpark boasting slides, a lazy river, splash zone, and even a campground where you can spend the night! Quassy Amusement Park has also become a hotspot for water fun with their recently added water slides. Located in an old quarry, Brownstone Exploration and Discovery Park takes water adventure to a whole new level with giant inflatables, zip lines, kayaking, cliff jumping, and more.
What are the best summer attractions in Connecticut?
There are countless ways to spend a summer day in the Nutmeg State. For a relaxing afternoon on the water, head to the Farmington River for a lazy tubing trip. Captain's Cove in Bridgeport is fun for the whole family with a boardwalk, ocean-themed restaurant, fishing charters, and more. Mystic Aquarium is another big draw for families and you can even schedule a Beluga Whale encounter for an adorable added adventure. Choose to see the sights from the water by embarking on a Ferry Boat tour or stretch your legs and take in some fantastic views on a mountain hike. Don't forget to explore the shoreline with a visit to one of Connecticut's amazing beaches.
OnlyInYourState may earn compensation through affiliate links in this article.