You May Not Want To Hear How Much Money You Have To Make To Live In Colorado
Well, our suspicions have been confirmed: living in Colorado is ridiculously expensive. While we feared/figured this for quite a while now, the cost information website HowMuch crunched the numbers and published some pretty startling infographics regarding the cost of living in Colorado versus the rest of America. It may make you cringe but read on to see just how tough it is to survive in the Centennial State if you aren't sitting securely in the highest tax bracket.
Please note: the findings below were published on October 9th, 2017.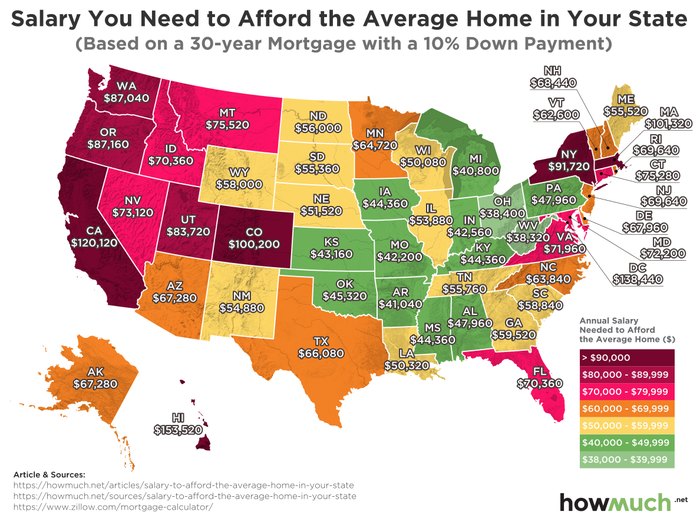 If you're interested in the methodology, data, and calculations used by HowMuch to come to these conclusions about the cost of living in Colorado, click here for details regarding the cost of homeownership and here for the rent breakdown.
Need to lift your spirits after these depressing stats? Click on The Quirky Town In Colorado That Will Make You Laugh Out Loud.
OnlyInYourState may earn compensation through affiliate links in this article. As an Amazon Associate, we earn from qualifying purchases.
More to Explore
Living In Colorado
Is Colorado a great place to live?
We hope the statistics in the above article didn't scare you too much, because living in Colorado is one of the most wonderful experiences you can have. If you're someone who values the great outdoors, exercise, fresh air, and sunshine, it's hard to imagine a more suitable place than the Centennial State. Those who move to Colorado will note how incredible the Rocky Mountains are compared to other mountain ranges in the U.S. Whether you prefer skiing, snowboarding, hiking, or simply strolling through nature, you'll find no shortage of things to do in Colorado.
What are the best things about living in Colorado?
In addition to Colorado's obvious appeal to nature enthusiasts, some of the best things about living in Colorado involve the variety of activities you can enjoy here. Head to Denver and prepare to be amazed by the array of cultural experiences, restaurants, museums, shops, and more that await you there. From the Denver Botanic Gardens to the Denver Zoo, you're bound to find something to love in the state's capital. Of course, Colorado's small towns are equally as impressive with their unique histories and breathtaking scenery. Finally, one of the very best things about living in Colorado is that it can be a wonderful place for your health. Colorado is consistently noted as one of the healthiest states in the U.S., given its residents' commitment to outdoor activities and healthy diets.
What are the worst things about living in Colorado?
As is the case for every state, there are some downsides about living in Colorado. While Colorado has some of the most beautiful natural attractions in the world, its identity as a landlocked state means there's no ocean. Many residents of Colorado share a longing for sand and saltwater, but fortunately, Colorado has no shortage of great places to swim. In fact, there are even some beautiful beaches that make being landlocked more bearable. Just take a look at some of these incredible lakes and swimming holes and see if you aren't convinced.
Related Articles
Featured Addresses