You Can Find A Fascinating 800 Year-Old Archaeological Site At Mesa Verde National Park In Colorado
If you have never visited the Centennial State, you may be surprised to learn that we are full of historic charm. Though we were the 38th state to be admitted to the Union, we have a history that spans much further than our statehood. In fact, at the Mesa Verde archaeological site, you'll find a gigantic nod to local history that dates back nearly a thousand years. Are you ready to hike out to one of our most magnificent landmarks? Tie those hiking boots tight and let's hit the trail – this National Park in Colorado is an amazing place.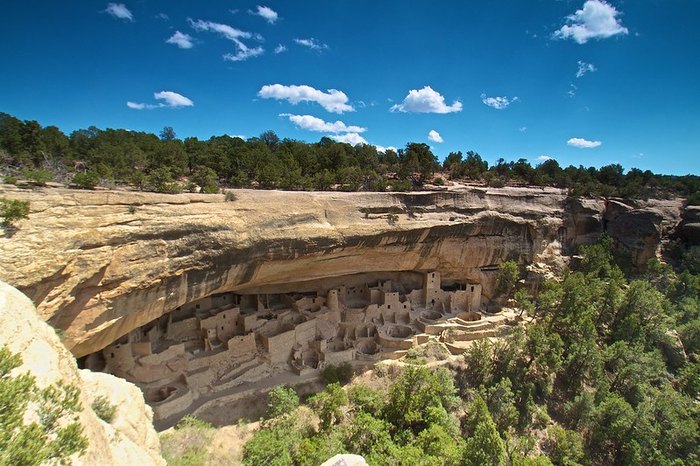 Cliff Palace is doubtlessly the most magnificent yet humbling archaeological site in Colorado. Have you ever visited this pretty place? We'd love to hear about your visit in the comments! Craving more local history? Check out this hiking trail where dinosaurs once walked.
OnlyInYourState may earn compensation through affiliate links in this article.
Address: Cliff Palace Overlook, Colorado 81330, USA
National Park to Visit in Colorado
February 22, 2022
What are some of the best state parks in Colorado?  
Colorado is a state with unparalleled natural beauty and splendid landscapes, and its many state and National Parks reflect this sense of awe. Colorful Colorado is home to 42 amazing state parks, and each of them is worth a visit for sure, be they beautiful, historic, or otherwise interesting (and they all are). It's tough to delegate which ones are the "best", though some do tend to get mentioned time and time again by visitors and locals alike. Some of those popular, much-beloved state parks in Colorado, which one might argue are the "best" ones, include Eldorado Canyon State Park, an underappreciated gem in Eldorado Springs featuring a canyon that's easily one of the best in the state. In Colorado Springs is Cheyenne Mountain State Park, which is perfect for those seeking a quiet afternoon hike or bike trip. We also love Rifle Falls State Park, which might actually be one of the most beautiful places in the entire state. Need more? Take a look at this list of ten amazing state parks in Colorado. 
What are the best easy hiking trails in Colorado?  
Colorado is home to literally thousands of amazing hiking trails, many of which are fun, easy, and perfect for folks of all skill levels. Many of our favorite easy hiking trails in Colorado are within Rocky Mountain National Park, like the amazing Dream Lake Trail (two miles long) and Alberta Falls Trail (1.6 miles long). There are plenty of hikes just about everywhere else, though, too, and one must be careful not to get unintentional tunnel vision trying to plan a Colorado hiking adventure. Be sure to check out trails at places other than RMNP like Red Rocks Trading Post Trail, a 1.5-mile trek through the scenic landscape of Red Rocks Park, and the Palmer/Buckskin-Charley/Niobrara/Bretag Trail Loop (WHEW) is four miles long and can be found at Garden of the Gods. Colorado is amazing and well worth exploring every single step of.