These 21 Iconic Scenic Drives In The U.S. Will Fuel Your Wanderlust
America is a country of explorers. This spirit of adventure runs deep here in the U.S., a place comprised of 50 wholly unique states and an amazing melting pot of cultures. This drive to explore is quite literally a drive to explore, too, with the country connected by a series of the most scenic highways and byways, iconic bridges, and backcountry roads. Route 66 is obviously the epitome of the Great American Drive, but it's by no means the only route worth traveling. Buckle up and get ready to explore; these scenic drives are the best road trips in the USA and are sure to fuel your wanderlust — no matter how insatiable it might be.
Cross-Country Scenic Drives In America
Scenic drives are a metaphor for life. There's Point A and Point B, and all the time in between. It's obviously great to look ahead at what's to come, but it's just as important to, as they say, enjoy the ride. And the following cross-country scenic drives in America will undoubtedly have you enjoying the ride. Depending on which route you take, you're looking at anywhere between 2,500 to 3,500 miles. So make a massive playlist and grab your favorite traveling BFFs — and be prepared to be totally dazzled by America the Beautiful.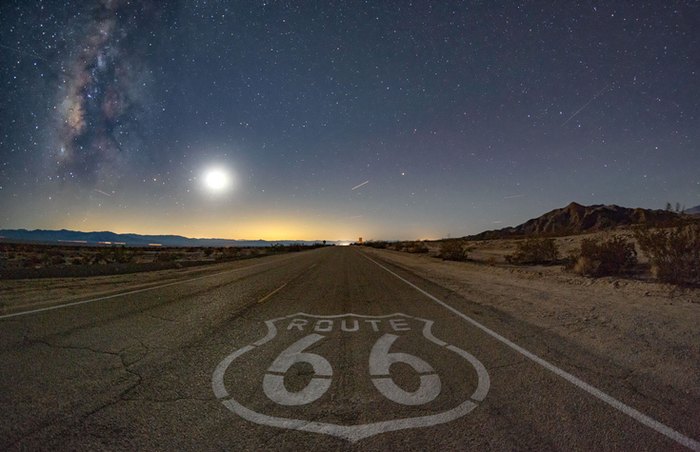 Northeastern USA Scenic Drives
The Northeast is such a treasure. In addition to being undeniably beautiful, there are lots of states packed into a relatively small region, making it possible to pack a whole lot of scenic punch in a short amount of time. Whether you choose to take a leaf-peeping trip in the fall or admire covered bridges come spring and summer, the following scenic drives in the Northeastern USA are sure to capture your heart.
Southern USA Scenic Drives
The American South is truly beautiful. Marshes and swamps, shoreline and canyons, mountains and rivers and history — there's a lot to see in the South. The following scenic drives in the South boast all of the above — and more — and we promise you'll emerge with newfound appreciation for all this region has to offer.
Midwestern USA Scenic Drives
There's a saying that Midwest is Best, yet many dismiss this part of the country as "fly over" territory. Don't make that mistake. The Midwest might be the most underrated region of the USA, and on the following scenic drives, you'll see some truly extraordinary landscapes sure to leave you speechless.
Northwestern USA Scenic Drives
The Northwest and Pacific Northwest part of the USA is a wonderland filled with old-growth forests, shockingly blue alpine lakes, majestic mountains, and even high deserts and temperate rainforests. Revel in the resplendence of this region with the following scenic drives through the Northwestern USA:
Southwestern USA Scenic Drives
Over in the Southwest, hoodoos and sand dunes and rock formations come together to create some of the most otherworldly landscapes in the USA. Immerse yourself in these wholly wondrous worlds on the following scenic drives through the Southwestern USA:
Non-Continental USA Scenic Drives
The Lower 48 tend to get the attention when it comes to bucket lists, especially with scenic drives, as exploring the non-continental USA requires multiple forms of transportation. While you can't just "pack up and go" to Alaska or Hawaii, you can — and should — add the following non-continental scenic drives to your bucket list, because they traverse some truly exceptional and exceptional parts of the USA… and world!
From coast to coast (and everything in between), America is one big map of road trip adventures. The only question is: which one of these best scenic drives in the USA will you tackle first?
OnlyInYourState may earn compensation through affiliate links in this article. As an Amazon Associate, we earn from qualifying purchases.
More to Explore
Best Scenic Drives in the USA
How long does it take to drive across America?
Looking for the Great American Road Trip? Get ready for some serious car time. It takes about 45 hours (or six days) if you're averaging eight hours a day, to drive coast-to-coast across America. 
What are the must-see places on a USA road trip?
Looking for iconic places to see on your next USA road trip? In addition to the sites and points of interest listed above, the American Discovery Trail is an epic tour de force of some of the country's most marvelous places and natural wonders, including:
Cape Henlopen State Park - Delaware
Harpers Ferry - West Virginia

Hocking Hills State Park - Ohio

Lincoln Boyhood National Memorial - Indiana
Garden of the Gods Wilderness - Illinois
The Gateway Arch - St. Louis, Missouri
Arches National Park - Utah
Virginia City - Nevada
Muir Woods National Monument - California
Golden Gate Bridge - California
What are the best states in America for scenic drives?
Here at OnlyInYourState, we have big love for ALL 50 states, and, as you can see in the above list of scenic adventures. However, in terms of states that pack a major punch in the scenic drives department, we recommend Oregon. Why? Well, the Beaver State's scenery is unrivaled, taking road trippers from coast to high desert, canyons to valleys. Some scenic drives in Oregon you'll want to check out include:
Three Capes Scenic Loop
Samuel H. Boardman State Scenic Corridor
Historic Columbia River Highway
Rim Drive
Painted Hills Scenic Byway
Related Articles