Shenandoah National Park: Discover A Stunning Oasis In The East
Few places in the country are as breathtakingly beautiful as Shenandoah National Park. This scenic expanse of the Southern Appalachian mountains in Virginia is 200,000 acres of pastoral perfection. Photographers love Shenandoah National Park for its picture-perfect panoramas, but this national park is so much more than just a quick photo stop. With stunning and radiant scenery, Shenandoah National Park offers some of the very best outdoor recreation opportunities in the U.S., stellar hiking trails (including access to the world-famous Appalachian Trail), extraordinary camping, an abundance of wildlife, and, yes, some of the most jaw-dropping views in the country. Shenandoah is a true national treasure; a place that belongs on everyone's bucket list.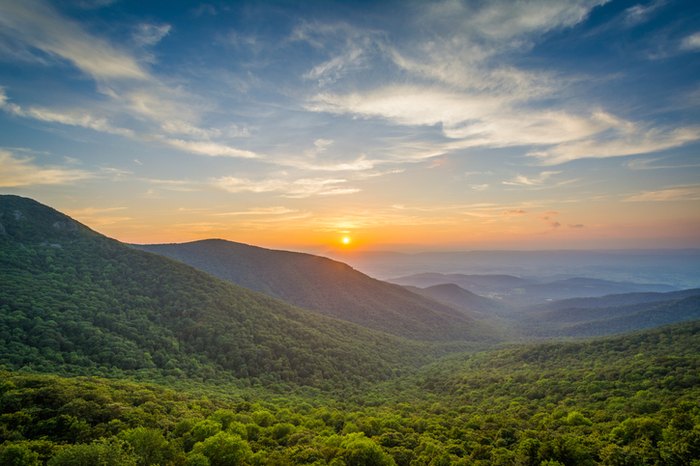 Shenandoah National Park is a pristine, pure place that's perfect on its own — no gimmicks, no tourist traps, no noise. It's as if Mother Nature finished this natural wonder, took a step back from her canvas, nodded her head, and put her paintbrush down. Shenandoah was sublime; nothing more was needed. It's an inspiring place that radiates light and life, inviting explorers to come and simply take it all in.
For more information on Shenandoah National Park, visit the National Parks Service website.
General Information:
Accessibility: With its variety of accessible hiking trails, picnic sites, campgrounds, and visitor centers, Shenandoah National Park is an incredibly accessible park. The park also offers assistive listening devices, braille brochures, and audio descriptions (available via the free Shenandoah National Park App) of its overlooks and notable features.
Pet Friendly: Shenandoah National Park is one of the few dog-friendly national parks, with the majority of trails open to pets on leashes.
Parking: Spanning over 100 miles, there are four entrances to Shenandoah National Park — and myriad places to park. Parking is permitted at trailheads where spaces are provided, and at entrance stations if space permits. Visitor Centers, picnic areas, waysides, and overlooks also have parking spaces. Just be sure you are not blocking Skyline Drive, administrative/fire roads, or overlooks.
Seasonal Access: Shenandoah National Park is open year-round; however, portions of Skyline Drive, the only public road through the Park, are periodically closed during inclement weather. There there are benefits to visiting any time of year, with autumn boasting some of the most incredible fall colors in the country. One thing to note: within the park, the mountains can be up to 10 degrees cooler than the valleys, so dress accordingly!
Cost: Single vehicle entrance passes to Shenandoah National Park are $30 per vehicle, and are good for seven days from the date of purchase.
Feeling inspired to fill your Bucket List? Check out our previous feature of Molokini Crater, an underwater wonder in Hawaii, and then subscribe to our weekly Bucket List newsletter to discover new destinations across the country that definitely deserve a visit.
Address: 3655 US-211, Luray, VA 22835, USA
OnlyInYourState may earn compensation through affiliate links in this article.