Most People Don't Know There's A Little Golden Gate Bridge In Arkansas
You already know that there's a Grand Canyon of Arkansas, but did you know we have a Little Golden Gate Bridge in Arkansas, too? Crossing the White River, where it meets with Table Rock Lake on Highway 187 to the town of Beaver, you're going to find a gorgeous old suspension bridge. In fact, it's the last bridge of its kind in the Natural State. There's nothing quite like the Little Golden Gate of Arkansas. It's a man-made wonder crossing a natural wonder, and you'll definitely want to check it out.
You can find directions to the bridge here.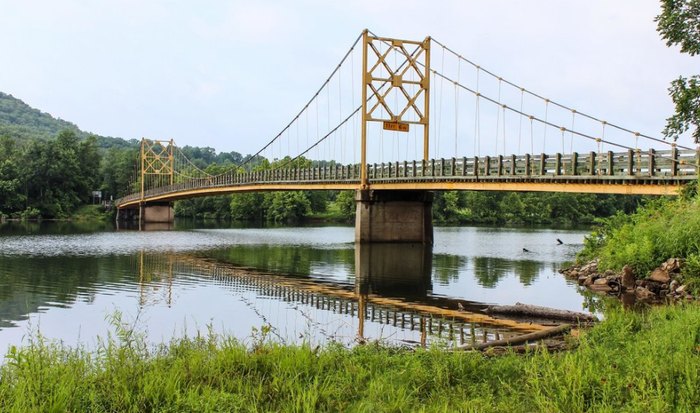 What do you think? Is the Little Golden Gate Bridge in Arkansas beautiful? Let us know in the comments below!
For more, check out some of our favorite hidden gems in Arkansas. You should also check out these Arkansas bridges and these Arkansas dams.
OnlyInYourState may earn compensation through affiliate links in this article. As an Amazon Associate, we earn from qualifying purchases.
More to Explore
Little Golden Gate Bridge in Arkansas
What is the Little Golden Gate Bridge in Arkansas' real name?
The "Little Golden Gate Bridge" in Arkansas is actually named the Beaver Bridge. It's a historic one-lane suspension bridge that spans the White River in Beaver, Arkansas. Due to its visual resemblance to the famous Golden Gate Bridge in San Francisco, it has earned its affectionate nickname. Built in 1949, the Beaver Bridge is an iconic structure in the region and a beloved spot for photographers and visitors.
What are the best bridges in Arkansas?
Arkansas is home to several beautiful and historically significant bridges. Here are some of the best and most notable bridges in the state:
Big Dam Bridge: Spanning the Arkansas River in Little Rock, this bridge is North America's longest specifically built for pedestrians and cyclists. It offers picturesque views of the river and surrounding areas.
Hernando de Soto Bridge: Connecting West Memphis, Arkansas, to Memphis, Tennessee, its distinctive M-shaped arches make it one of the most recognizable bridges on the Mississippi River.
Beaver Bridge: Also known as the "Little Golden Gate Bridge," this historic one-lane suspension bridge spans the White River in Beaver. Its yellow hue and design are reminiscent of San Francisco's famous bridge.
Junction Bridge: Located in Little Rock, this former railway bridge has been converted into a pedestrian walkway, providing a scenic overlook of the Arkansas River and the city's skyline.
Broadway Bridge: Also spanning the Arkansas River in Little Rock, the Broadway Bridge is an essential transportation link, connecting Little Rock to North Little Rock.
Two Rivers Bridge: A pedestrian and cyclist bridge that spans the Little Maumelle River in Little Rock, offering a tranquil experience away from vehicular traffic.
Cotter Bridge: Officially named the R.M. Ruthven Bridge and spanning the White River in Cotter, this historic bridge is listed on the National Register of Historic Places.
War Eagle Bridge: This historic bridge spans War Eagle Creek near Rogers and is adjacent to the War Eagle Mill. It's a popular spot during the fall, particularly during the War Eagle Craft Fair.
These bridges, each with its own unique architectural and historical significance, add to the rich tapestry of Arkansas's landscapes and infrastructure. They serve not only as functional structures but also as landmarks and points of interest for locals and tourists alike.
Related Articles
Explore Arkansas
Featured Addresses

The "Little Golden Gate" Bridge, Beaver, AR 72631, USA