These 7 Lazy Day Float Trips In Arkansas Will Ease You Into Summer
Let's face it: sometimes, the Natural State can get downright hot. Perhaps even worse, it gets super humid, too, which definitely doesn't help things to feel any better. To us, though, that's all the more reasons to start planning some water activities! Here at Only In Your State, we fully support chasing waterfalls in addition to floating along the state's lakes and streams. Take a tube or canoe down one of these float trips in Arkansas to ease you into warmer days.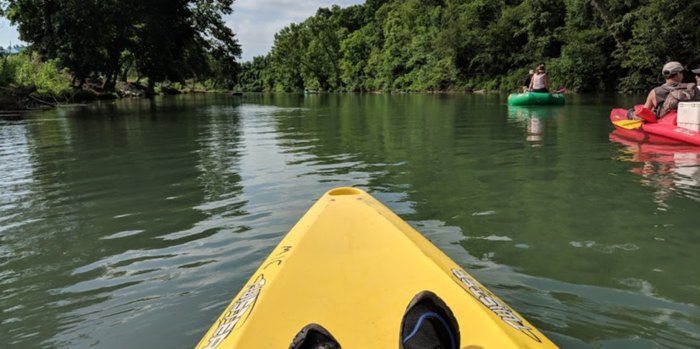 Which stream is your favorite for a relaxing float? Share your favorite spots with us in the comments! We would also love to see your float photos in our Facebook Group, Arkansas Nature Lovers. You should join for your chance to be featured and to discover why there's nothing better than Arkansas' stunning landscapes.
One more river adventure to add to your Arkansas itinerary is this camp and float!
OnlyInYourState may earn compensation through affiliate links in this article.
Address: 69 Arrowhead Dr, Caddo Gap, AR 71935, USA
Address: 1 Rivercrest Cir, Benton, AR 72019, USA
Address: 53 Old Hwy 7, Dover, AR 72837, USA
Address: 11901 Pinnacle Valley Rd, Roland, AR 72135, USA
Address: 904 Riverview Dr, Malvern, AR 72104, USA
Address: 4699 AR-43, Ponca, AR 72670, USA
Float Trips in Arkansas
April 30, 2021
Where are the most popular places to swim in Arkansas?
Arkansas is home to tons of awesome natural pools, lakes, quarries, and swimming holes - you just need to know where to look! Some of the most popular spots among locals are the Kings River Falls Natural Area in Witter and Lake Bennett at Woody Hollow State Park. Other beloved swimming spots include Lake Sylvia, Blanchard Springs, and Little Missouri Falls. Each area is absolutely beautiful in its own way, and we feel like we're pretty lucky to live in such a beautiful place. Need a list of ideas to start with? Read this article for more! 
What is summer in Arkansas like? 
In one word? Sticky. In a few words, it does tend to get hot here, and the high humidity doesn't necessarily help. However, we've got lots of swimming holes, and it rains a lot, so we're never terribly far away from relief from the heat! We seem to trade the hot summers for mild winters, though, so there's that. It may be hot and sticky for part of the year, but the rest of the year is gorgeous. 
What are some things to do in Arkansas?
Anything you can do anywhere else, you can do here! We're lucky to live in a place where the possibilities seem endless; you've got your more traditional activities like hunting, fishing, hiking, and camping, sure, but you've also got more non-traditional things to do, too, like rock climbing or cliff diving. Arkansas is home to not one, not two, not three, but eight National Parks, and we also boast more than 50 state parks. It would take you a long time to explore every one of them, and boy, do we ever encourage you to do so! If you're looking for history, you'll find it here, too - Arkansas was founded in the 1830s, which means we've got plenty of rich and interesting history to examine. No matter what it is you hope to do, you can probably find it here.