Shrouded In Mystery, Blowing Cave In Arkansas Is Believed To Be An Entrance To A Secret World
Nevada has Area 51 and here in Arkansas, we've got Blowing Cave! Though not as famous as its Nevada counterpart, Blowing Cave in Arkansas has attracted its fair share of curious visitors – and for good reason. It's shrouded in mystery. One of the most popular legends is that the cave serves as an entrance to a secret underworld inhabited by a race of human-like beings.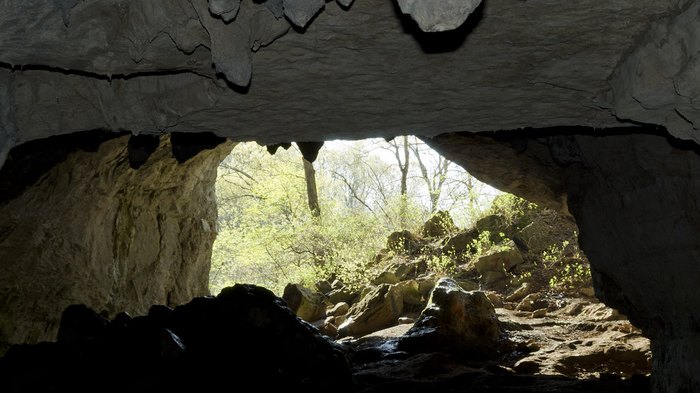 So, what do you think? Are you ready to explore Blowing Cave? Remember, it can be toured for FREE on Sundays, from 12 p.m. – 5 p.m. Guided tours, which are $45 per person, are available by reservation only. For more information on Blowing Cave, check out the cave's Facebook page.
Whether you go for the mystery and superstition, or you simply love exploring cool caves, Blowing Cave is a pretty interesting adventure. Did you know about Blowing Cave in Arkansas? What about the mysteries surrounding it? If you have ever visited Blowing Cave, what'd you think? Tell us all about your chilling experiences!
This isn't the only mysterious place in Arkansas. You absolutely must read about these eight unusual places in Arkansas that you never knew existed.
OnlyInYourState may earn compensation through affiliate links in this article. As an Amazon Associate, we earn from qualifying purchases.
More to Explore
More Info About Arkansas Caves
How far in is the waterfall room in Blowing Cave?
The waterfall room deep inside Blowing Cave is a sight to behold. It's also not easy to get there. About one-third of the way through the cave, you'll find a room that opens up to reveal the stunning underground waterfall. But about halfway to the waterfall room, you'll encounter the Potato Masher - a section that collapsed sometime in the past creating a very narrow section you must crawl through in order to continue your trek to the waterfall room. Many claustrophobic-inducing tight spaces and plenty of mud stand in your way of reaching this legendary waterfall.
How many caves are there in Arkansas?
There are well over 2,000 documented caves in Arkansas, but only a handful are open to the public. If you would love a chance to explore these underground landscapes here are a few of the most popular privately-owned caves that are open to the public:
What is the biggest cave in Arkansas?
Cosmic Cavern is the largest cave in Arkansas that is open to the public. One of its main features is a stunning 9-foot soda straw formation. Also, be sure to check out the two bottomless underground lakes in the cave. Especially the South Lake which is filled with trout that have been there for over 50 years. Since there is very little light in the cave the trout have gone blind and have lost their color.
Related Articles
Explore Arkansas
Featured Addresses

Blowing Cave Spring, Cushman, AR 72501, USA