The Most Affordable Arkansas Road Trip Takes You To 5 Stunning Sites For Under $100
We all love a great Arkansas road trip, right? And we love to take them without spending tons of money. Between the cost of gas, food, and attractions, those expenses can certainly add up. So, it's great when we can hit the road and not worry about spending too much money. We can all agree that some of the best things in life are free. Luckily, Arkansas is filled with lots of free attractions. Let's gas up the car and drive to these five stunning sites that will cost less than $100. This affordable road trip will be tons of fun for the family. Pack some sandwiches and some snacks and let's go!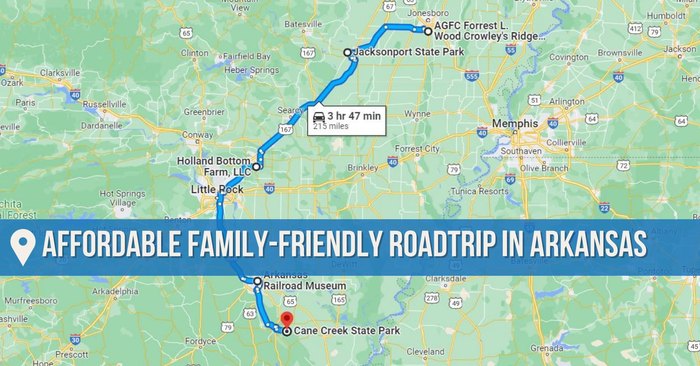 The great news is, if you're traveling with a family of 4, this affordable road trip will cost under $100. So, are you ready to hit the road for this family-friendly road trip? Grab the family and let's go. 
And if you're looking for more fun-filled outings, you must spend the day at this amazing nature center. 
OnlyInYourState may earn compensation through affiliate links in this article. As an Amazon Associate, we earn from qualifying purchases.
More to Explore
Affordable day trips in Arkansas
What are some other affordable day trips in Arkansas?
Looking to explore the best of the Natural State without breaking the bank? There are so many known natural wonders in Arkansas, including well-known places like Cedar Falls, Blanchard Springs Cavern, Buffalo National River, and Hawksbill Crag. Looking for some other spots to explore? Here are some of our favorite affordable day trips in Arkansas... some of these places are even free to visit!
The Little Grand Canyon of Arkansas. The Little Grand Canyon of Arkansas is in the Ouachita Mountains, just outside of White Oak Lake State Park. A true hidden gem, most are completely unaware of the Little Grand Canyon's existence. (Don't confuse it with the state's other popular canyon, the Arkansas Grand Canyon, which is in the Ozark Mountains, which is also fun -- and free -- to visit!)
The Forrest L. Wood Crowley's Ridge Nature Center. Located in Jonesboro Arkansas, the Forrest L. Wood Crowley's Ridge Nature Center is situated on Crowley Ridge - a natural elevation inside the Mississippi Delta. The center is a state-of-the-art facility that provides an interactive and unique experience that the kids will love. Inside you will find animal displays, various exhibits, a two-story diorama, learning materials, an observation room, and an aquarium. There are alligators, snapping turtles, and large snakes galore, oh my! Thankfully, they are inside their glass enclosures. The best part? Admission to this only-in-Arkansas museum is free!
Ozark National Forest. A beautiful expanse in Arkansas, we recently discovered a lookalike Egyptian Sphinx rock formation that's worth tracking down! The trail is only a half-mile long, but it's not well-marked and definitely requires a sure and steady foot. The trail is considered difficult, and it's not recommended to trek it alone, so bring the dog along to witness this incredible formation. Once you arrive at the top, you'll see why the rock formation is called the Arkansas Sphinx. Though it's much smaller than the Egyptian version, you'll be amazed by the towering structure as it's the most unique natural wonder in the Ozarks of Arkansas.
Related Articles