11 Rural Restaurants Around Arizona That Are So Worth The Drive
We love small town restaurants and if you do too, this list won't disappoint. Here are 11 of the best rural restaurants in Arizona with phenomenal food, charming atmospheres, and even better service. These aren't your run-of-the-mill chain restaurants; this is a list of some of the very best, only-in-Arizona restaurants that offer some truly incredible food. Put these off-the-beaten-path restaurants on your bucket list, and be prepared for some seriously delicious dishes.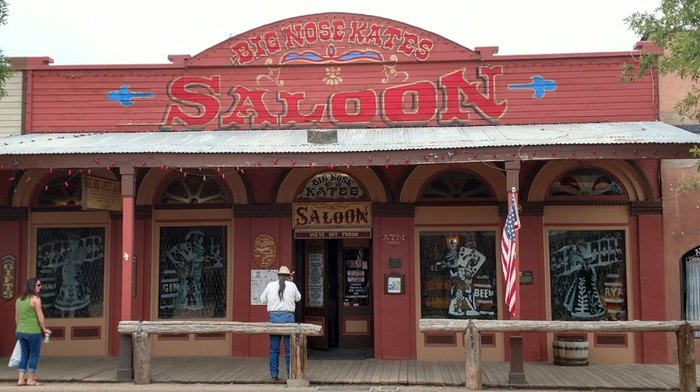 What do you think are the best rural restaurants in Arizona? Did they make the list? If you have more that you think we should feature, let us know in the comments below!
And if you want more totally unique places to grab a bite to eat, here are the 8 Wackiest Restaurants In Arizona Where Dining Is A Blast. (You have to check out #3 on the list, where you can literally dine in an underground cave!)
OnlyInYourState may earn compensation through affiliate links in this article.
Address: Big Nose Kate's Saloon, 417 E Allen St, Tombstone, AZ 85638, USA
Address: 235 E Warner Rd STE 107, Gilbert, AZ 85296, USA
Address: 117 Co Rd 1120, Greer, AZ 85927, USA
Address: 119 Jerome Ave, Jerome, AZ 86331, USA
Address: 6501 E Cave Creek Rd, Cave Creek, AZ 85331, USA
Address: 42661 US-180, Alpine, AZ 85920, USA
Address: 724 Industrial Dr #7a, Camp Verde, AZ 86322, USA
Address: 17680 N Munds Ranch, Munds Park, AZ 86017, USA
Address: 12976 N Sabino Canyon Park, Mt Lemmon, AZ 85619, USA
Address: Elvira, Tucson, AZ, USA
Best Rural Restaurants In Arizona
February 05, 2021
What food is Arizona most famous for? 
Officially, Arizona's state food is the Apache Trout. But unofficially, chimichangas, otherwise known as deep-fried burritos, top the list of local's favorites. Arizona folk take their chimichangas very seriously, and these 10 restaurants serve the very best in the entire state.
Does Arizona have a lot of rural areas?
Interestingly enough, land wise, Arizona is mostly rural. But the population primarily resides in urban areas. In fact, 90% of the population of Arizona lives within city boundaries.
Does Arizona have any cool roadside attractions?
Once you've eaten at all of the best rural restaurants in Arizona, you'll want to move on to explore some other unique places in the state. Our advice? Check out these 10 quirky roadside attractions in Arizona, compiled in a neat, little road trip that's sure to satisfy your curiosity.