The Christmas Town In Arizona That Has One Million Christmas Lights On Main Street
Ready to dive into the spirit of the season in the most dazzling way? Then head on over to what many consider to be the best Christmas town in Arizona. For over two decades, Glendale Glitters has delighted visitors with live music, tasty food, antique shopping, and sparkly lights adorning the streets. This spectacular festival is the largest free holiday light display in the entire state, and it is an absolute must-see. Anyone who is spending winter in Arizona should head on over to this incredible town. One thing's for sure: Santa certainly won't have trouble spotting the illuminated city!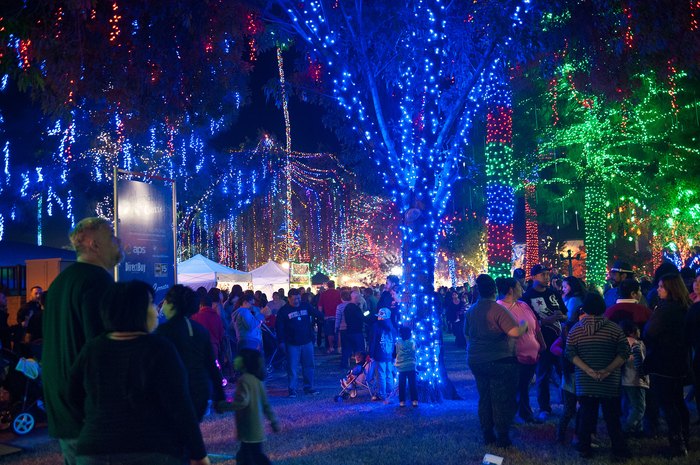 For more information about all of the festive events at Glendale Glitters, visit the City of Glendale's website.
What are your favorite displays of Christmas lights in Arizona? What other towns in Arizona go all-out for the holidays? Let us know your favorite spots to celebrate the holidays in the comments!
OnlyInYourState may earn compensation through affiliate links in this article.
Address: Glendale, AZ, USA
Best Christmas Town In Arizona
October 05, 2021
What are the best holiday events in Arizona?
Looking for the best holiday events this year to enjoy with loved ones? Would you like to stroll through the holiday lights in Arizona with your family and friends? How about a drive-thru light show experience? First and foremost, these drive-thru light shows in Arizona are well worth the trip every holiday. You don't even have to get out of your car! Or check out The Nutcracker Village in Scottsdale for a one-of-a-kind family-friendly party. You can also plan a trip aboard the Polar Express in Arizona, which is sure to delight the younger crowd.
What will winter be like in Arizona this year?
Spending winter in Arizona means different things to different people, depending on which part of the state they're from. Northerners can expect colder temps and snow-capped mountain peaks, while southerners can string up their holiday lights in shorts. This year, Arizona is expected to be a "Polar Coaster" with a mixed bag of weather throughout the state. The Farmers' Almanac is predicting temperature swings that last well into March!
What are the best Christmas towns in Arizona?
One of the best ways to spend Christmas in Arizona is by visiting all of the greatest Christmas towns. We've already mentioned Glendale Glitters above, so what other holiday towns are both checking out? Flagstaff is always a gem when the holidays roll around, especially when their main street doubles as the North Pole. In addition, Lake Havasu City also becomes a holiday haven for anyone looking for a few warmer days. Also check out Mesa, a Phoenix suburb, which always has a few incredible holiday events going on.