The Ultimate Arizona Hidden Gem Road Trip Will Take You To 6 Incredible Little-Known Spots In The State
Just when we think all the hidden gems in Arizona have been discovered, a few more rear their heads. From a quaint fishing community frozen in time to a whimsical town with a space-themed restaurant and motel, this 10-hour Arizona hidden gems road trip leads to some of the Grand Canyon State's most underrated destinations.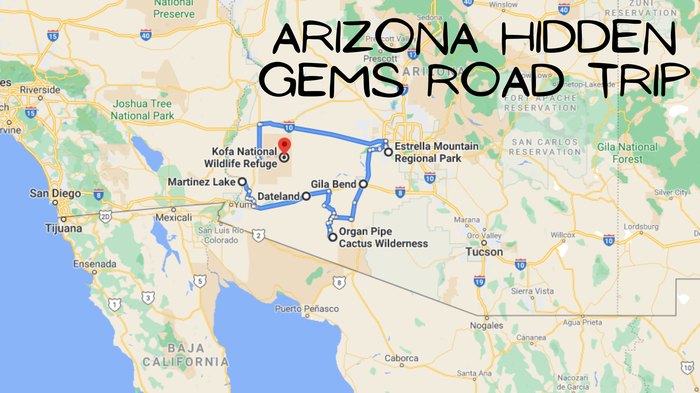 How many of these hidden gems in Arizona have you visited? Would you add any to the list? Let us know your thoughts in the comments, and check out some of our previous articles to learn more about Organ Pipe Cactus National Monument.
OnlyInYourState may earn compensation through affiliate links in this article.
More to Explore
Arizona Hidden Gems Road Trip
What are some of the best hidden gems in Arizona?  
Arizona is in and of itself a hidden gem if you ask us! It's so much more than just the Grand Canyon (which is still pretty awesome) and seemingly endless desert landscapes. We have lots of favorite hidden gems in Arizona to choose from, like Saguaro Lake, and many other lakes as well. We love Lake Mary, in northern Arizona, and Woods Canyon Lake as well. You can visit Colossal Cave, an absolutely incredible cave system in southern Arizona complete with stalactites and stalagmites galore. Other beloved hidden gems in Arizona include delights like the crazy drive on Schnebly Hill Road in Sedona, which is a rough road appropriate for high-profile vehicles that leads to some of the most incredible scenery in Arizona.  
Where are the most unique places in Arizona?  
Arizona is in and of itself a very unique place. After all, it's not every day you come across a place that's got almost every kind of ecosystem in it! In northern Arizona, you'll find stunningly beautiful Ponderosa Pine forests. These forests are home to some of the best hikes in Arizona - and the weather is always much cooler up there than it is down in Phoenix. Down south, around Tucson, you'll find incredible desert beauty at Saguaro National Park, which is about as unique as it gets, considering the desert southwest is the only place where the giant saguaro grows. Visit Sedona and take in some of the world's most incredible geography in the form of red cliffs, buttes, and mountains. Arizona is amazing – get out and explore!  
What kind of Arizona road trip ideas are the best ones?  
Honestly... every road trip in Arizona is a great one. Some of our favorite Arizona road trips include driving the amazing 89A, north to south or south to north. You'll pass through incredible forests, see an epic extinct volcano at Sunset Crater north of Flagstaff, and you'll also meander through Oak Creek Canyon between Flagstaff and Sedona. The 89A is considered one of the most beautiful scenic drives in the United States – not just in Arizona! You could also create road trips out of things like the amazing state parks in Arizona, our stunning National Parks, or even simple city parks. We're also big fans of driving all the scenic routes in Arizona – our scenic byways are second to none. 
Related Articles