6 Arizona Day Trips That Are Even Cooler During The Winter
Arizona isn't all Saguaros and blistering heat. The northern half of the state experiences all four seasons, receiving as much as 100 inches of snow annually (in Flagstaff, the snowiest town in Arizona.) Certain places in the Grand Canyon State, such as Watson Lake and the Grand Canyon, aren't commonly seen as winter destinations, but we believe they're even more magical this time of year. Check out six of the best winter day trips in Arizona to add to your bucket list for this season… just be sure to come prepared with your coziest winter travel essentials!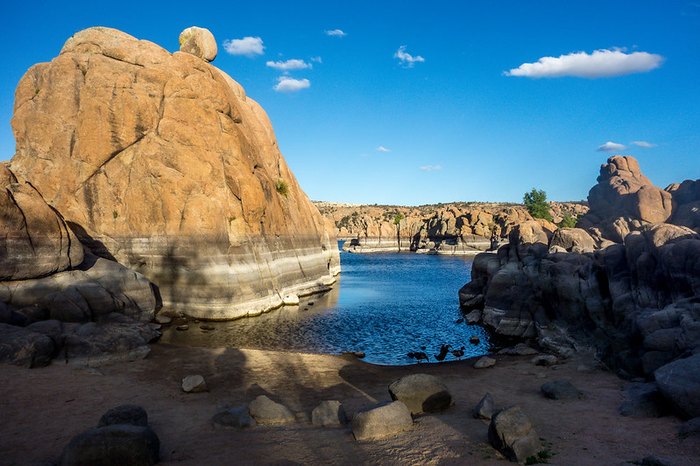 How many of these winter day trips have you taken? What are some of your favorite things to do in Arizona in the winter? Tell us your thoughts in the comments! Don't forget to check out our previous article for another place that proves winter in Arizona is magical.
OnlyInYourState may earn compensation through affiliate links in this article. As an Amazon Associate, we earn from qualifying purchases.
More to Explore
Natural Beauty In Arizona
Are there any natural wonders in Arizona that I can visit? 
There are a ton of natural wonders in Arizona that make for the perfect outings, check out a few of the best:
Visiting Antelope Canyon requires a guided tour as the area can still flood, but these stunning sandstone formations are a favorite among photographers and feel positively otherworldly.
Kartchner Caves were recently discovered and are the current home to a lot of bats, but the formations inside these caves are so uniquely beautiful.
Meteor Crater, AKA Barringer Crater is exactly what it sounds like, a massive crater left behind when a meteor fell to Earth. It's remarkably well preserved due to the climate of the area.
What are some of the most beautiful waterfalls in Arizona that I need to see? 
If you want to see some of the most jaw-dropping natural beauty that the Copper State has to offer, visiting some of these stunning waterfalls in Arizona is a great start:
Havasupai Falls is highly regarded as one of the most beautiful waterfalls in the country, so much so that you will need to obtain a permit to hike to it and camp in the area! But the effort is well worth it.
Mooney Falls requires quite a challenging hike to reach, but you will be rewarded with crystal blue waters careening down through red rocks.
Beaver Falls is a series of cascading falls that are filled with stunning turquoise waters. These falls may not be too tall but they are breathtaking nevertheless.
Which road trips through Arizona should I go on?
Pack up the car with all of the essentials, fill up the tank, and hit the road for one of these exciting road trips through Arizona. They are so much fun solo or with the whole crew:
Related Articles
Explore Arizona