You'll Never Forget A Trip To These 10 Waterfront Spots In Arizona
It seems everytime one of these water-related articles comes up, we always get comments from readers who were unaware that Arizona had so many lakes and rivers. Sure, Arizona isn't particularly well-known for its plethora of water sources but, after diverting natural sources through damming and reservoirs, we actually have more than would be expected in a desert. If you're looking for a scenic area to fish or just need inspiration for your next plein air activity, here are 10 waterfront spots in Arizona you will not want to miss. They may just make your bucket list!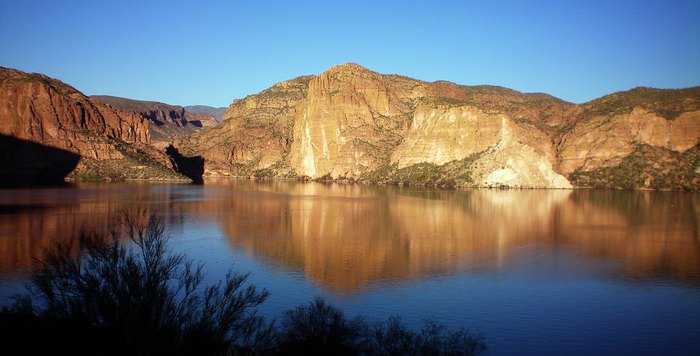 Which of these have you visited? Is there any waterfront spots in Arizona that we missed? If so, we want to hear about it!We love reading your comments, so let us know which waterfront location you look forward to spending the day at in the comments below!
If you're looking for another stunning body of water to visit, read about how This One Destination Has The Absolute Bluest Water In Arizona.
Address: Canyon Lake, Arizona, USA
Address: Tempe Town Lake, Tempe, AZ 85281, USA
Address: Theodore Roosevelt Lake, Arizona, USA
Address: Oak Creek Canyon, Arizona 86336, USA
Address: Lake Powell, AZ 86040, USA
Address: Lake Mead, United States
Address: Havasu Falls, Arizona 86435, USA
Address: Grand Falls, Arizona, Arizona 86035, USA
Address: Fossil Creek, Arizona, USA
Address: Colorado River, Colorado River
Waterfront Spots in Arizona
April 07, 2021
Are there a lot of great water based activities to do in Arizona?
There are! Even though Arizona is known as a land of desert, there's so many great lakes and dams to explore. Many people raft or kayak the Colorado River, there's lots of waterfalls to play in, and huge lakes to enjoy. Go out boating or fishing, stand up paddling or kayaking, or just swim to your heart's content. There's plenty of ways to cool off on a hot day!
What is the cleanest lake in Arizona?
Lake Lynx is the cleanest lake in Arizona. It's a gorgeous, pristine spot located within the Prescott National Forest.
Address: Canyon Lake, Arizona, USA
Address: Tempe Town Lake, Tempe, AZ 85281, USA
Address: Theodore Roosevelt Lake, Arizona, USA
Address: Oak Creek Canyon, Arizona 86336, USA
Address: Lake Powell, AZ 86040, USA
Address: Lake Mead, United States
Address: Havasu Falls, Arizona 86435, USA
Address: Grand Falls, Arizona, Arizona 86035, USA
Address: Fossil Creek, Arizona, USA
Address: Colorado River, Colorado River