7 Rustic Spots For Off-The-Grid Camping In Arizona
Nothing beats spending a few nights of off the grid, camping underneath the stars in beautiful Arizona. There's simply nothing like the beauty of the desert, and the remote camping experience in the Grand Canyon state is truly unlike any other. If you're still on the lookout for a perfect camping spot to pitch a tent and sleep under the stars in Arizona, you're in luck because this is our second article on the topic! Today we're going to take a look at 7 spots for off-the-grid camping in Arizona — they're all are a little quieter and a more secluded than what you will typically find. Just keep in mind that many of these places require a permit and following basic camping rules.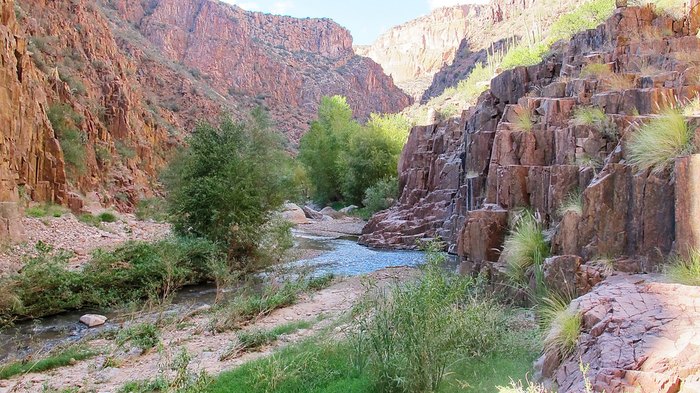 Have you camped in any of these spots? Be sure to let us know what your experience was like by leaving a comment here or on our Facebook fan page. There's nothing like off the grid camping in Arizona, and we have a feeling you may have just found a new favorite camping spot.
You can experience more of the fun Arizona has to offer with a visit to one of the 12 best spots in the state to add to your bucket list. 
Address: Aravaipa Canyon, Arizona 85192, USA
Address: Blue Ridge Campground, AZ-87, Happy Jack, AZ 86024, USA
Address: Highway 261, Show Low, AZ 85901, USA
Address: Crown King, AZ 86343, USA
Address: Pima, AZ 85543, USA
Address: Blue River, United States
Address: Wheatfields Lake, Arizona 86556, USA
Off-The-Grid Camping In Arizona
February 06, 2021
What are the most beautiful hikes in Arizona?
Bright Angel Trail is a hike that takes you through the meat of the Grand Canyon, and you'll wander from the South Rim of the canyon straight down to the Colorado River. Echo Canyon Trail in the Chiricahua National Monument is a 3.5-mile loop that's popular if you're looking for scenic, stunning landscapes. We'd also recommend hiking Cathedral Rock if you ever find yourself in Sedona! It's a natural wonder that you won't want to skip. 
Which state parks should I visit in Arizona?
Most folks tend to slough off Arizona for its desert-centric landscape options, but there are state parks scattered across the state that truly belongs on your bucket list. Tonto Natural Bridge State Park boasts the 183-foot-high Tonto Natural Bridge. At Red Rock State Park you'll find almost 300 acres of red rocks scattered across the park's broad expanse. The Lost Dutchman State Park offers historic insight into the Superstition Mountains and the famed, lost gold mine in its midst.
Does Arizona have any natural wonders?
The best-known natural wonder in the state of Arizona is most likely the Grand Canyon, but the state has landscape diversity that lends itself to jaw-dropping views. From the rock formations in Antelope Canyon to the gushing Havasu Falls, there's a little something for everyone. Monument Valley boasts wild rock formations and incredible desert colors, and the Petrified Forest National Park in northeastern Arizona is home to almost 150 different species of fossilized plants.
Address: Aravaipa Canyon, Arizona 85192, USA
Address: Blue Ridge Campground, AZ-87, Happy Jack, AZ 86024, USA
Address: Highway 261, Show Low, AZ 85901, USA
Address: Crown King, AZ 86343, USA
Address: Pima, AZ 85543, USA
Address: Blue River, United States
Address: Wheatfields Lake, Arizona 86556, USA