Visit These 11 Creepy Ghost Towns In Arizona At Your Own Risk
The mining boom of the late 19th century saw the rise of dozens of small towns and settlements across the Arizona Territory. These later led to small communities and business ventures becoming established as Arizona moved into statehood and modernity, especially when Route 66 was opened. However, nothing lasts forever and many of these places were later abandoned. Today, they are creepy ghost towns in Arizona.
A ghost town is defined as an abandoned place with some structures still standing. Some areas continue to house a small number of residents and these are typically referred to as living ghost towns.  If you are looking to experience some spooky, abandoned areas across the state, check out some of these ghost towns.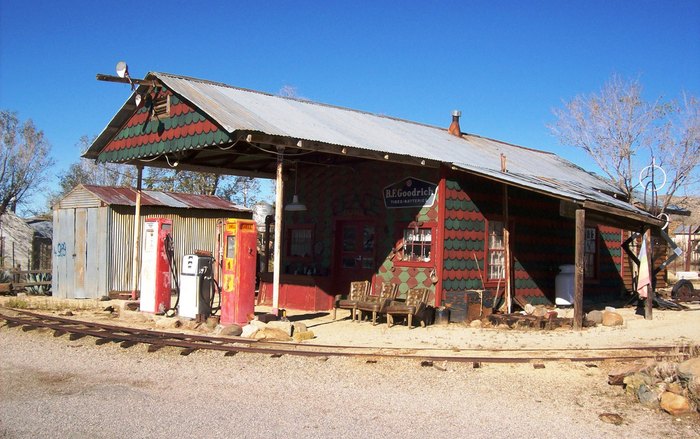 What do you think? Do you want to visit these? Do you know of any other ghost towns in Arizona? We've put together a convenient Arizona Ghost Town Road Trip to visit some of them in one route. Are you brave enough to visit them?
OnlyInYourState may earn compensation through affiliate links in this article.
Address: Chloride, AZ 86431, USA
Address: Cordes, AZ 86333, USA
Address: Fairbank, AZ 85616, USA
Address: Gleeson, AZ 85610, USA
Address: 4650 N Mammoth Mine Rd, Apache Junction, AZ 85119, USA
Address: Oatman, AZ 86433, USA
Address: Pearce, AZ 85625, USA
Address: Ruby, AZ 85621, USA
Address: E Sasco Rd, Red Rock, AZ 85145, USA
Address: Seneca Lake, Arizona 85550, USA
Address: Two Guns, AZ 86047, USA
Creepy Ghost Towns In Arizona
September 25, 2020
What are the creepiest places in Arizona?
There are quite a few creepy places to visit in Arizona if you're into that kind of thrill. Many people don't know that there is an abandoned mansion in the state that you can hike to and check out for yourself. Located in the Hualapai Mountains and right next to an abandoned mine, this shell of a building is certainly eerie. Another spooky ghost town in Arizona to visit is Vulture City. As if the name wasn't already off-putting, there is an old hanging tree there that adds to the creepy ambiance. Some people even say ghosts linger in the area.
Can I go ghost hunting in Arizona?
If you like visiting haunted places in Arizona and trying to experience paranormal activity, you're in luck. Arizona's most notoriously haunted town, Jerome, has a ghostly tour you can take. This former mining town has many stories of ghosts, and Ghost Town Tours Jerome is eager to tell you all about them. These tours range from walking tours with a history of the area and its supposed spirit residents, or night time experiences with special equipment that'll give you a true ghost hunting experience. You can learn more about these AZ ghost hunting tours here.
What are the most haunted places in Arizona?
There are more spooky spots than just abandoned places in Arizona. One of the most notoriously haunted places - and certainly the most spine-chilling to visit - is the Yuma Territorial Prison. This place has been known for its negative experiences since the days it was actually operation. Conditions were awful there, and many prisoners died within its walls. Causes of death ranged from tuberculosis to suicide, and others being shot while attempting to escape. Needless to say, these walls have harbored truly negative energies over the years and it's known as one of the most haunted spots in Arizona. Today, it's a state park you can visit for yourself. Learn more about the Yuma Territorial Prison here.