Hike To An Abandoned Village At Wupatki National Monument In Arizona
One of the greatest things about living in the Grand Canyon State is that history and nature often converge. You can hike through the high desert to an abandoned Puebloan village, learning about the ancient peoples who once inhabited it with every step, all at the Wupatki National Monument in Arizona. Check it out: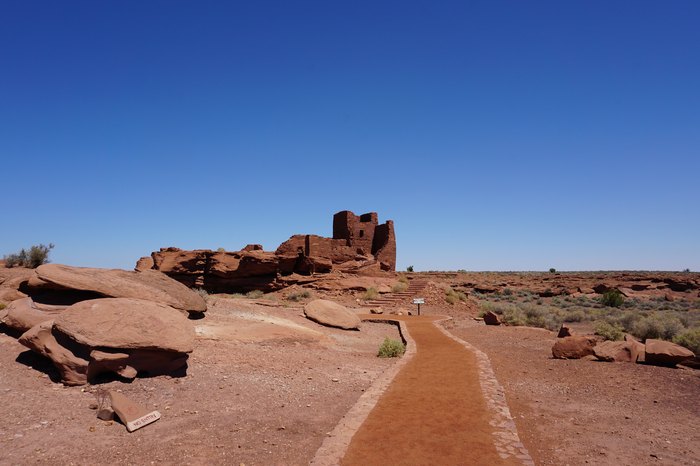 For more information, check out the park's official website. Be sure to check the park's open status before you make any plans. You need reservations for guided hikes, and they are in limited availability.
Have you ever hiked to Wupatki National Monument? Are there any other abandoned villages in Arizona accessible via hike? Let us know your favorites!
Here are a few of our favorite trails that lead to ancient ruins: These 12 Trails In Arizona Will Lead You To Extraordinary Ancient Ruins.
OnlyInYourState may earn compensation through affiliate links in this article.
Address: Wupatki National Monument, 25137 North Wupatki Lane, Flagstaff, AZ 86004, USA
Wupatki National Monument In Arizona
November 20, 2020
What are the most beautiful hikes in Arizona?
You can do more than just hike to an abandoned place in Arizona. There are tons of trails all over the state, all beautiful in their own way. Some must-see hikes include the Bright Angel Trail, a true way to experience the Grand Canyon. This trail is long and strenuous at over 18 miles down into and back out of the canyon, but the reward is a memorable experience you'll never forget. You can also do the opposite of hiking down into a canyon by hiking up to Arizona's highest peak. Humphrey's Peak has a trail to the very tippy top. Again, this isn't a trail for beginners, but the view and the pride you'll receive at the top is worth every step.
Which state parks should I visit in Arizona?
You can find many unique Arizona hikes all throughout the state's lovely parks. A lesser-known yet totally awesome park to visit for hikers is Picacho Peak State Park. The hikes there should be done either with a guide or by experience hikers since they aren't your typical trails. The Lost Dutchman State Park is similar. The terrain is rugged and certainly one-of-a-kind, making the trails unique challenges that are a joy to experience. Plus, the scenery is gorgeous. A well-loved state park is the Red Rock State Park around Sedona, Arizona. The iconic, vivid red rocks that rise above the greenery are stunning to see in person, whether you take one of the many trails or experience it just by driving through it.
Which hikes in Arizona are short and sweet?
Enjoy some of the easier hiking trails in Arizona that hikers of any experience level can do. The Monolith Garden Trail in Kingman, Arizona has plenty of amazing views along its relatively short 1.8-mile span. If you're in the Coconino National Forest, check out the West Fork Oak Creek Trail. It's 4 miles long and will take you through a creek, along the red rocks of the area, and many other picturesque sights. For a more relaxed trail that can be done in an afternoon stroll, try the Woods Canyon Lake Trail, located near Payson, Arizona. You'll meander along the lakeside with beautiful views of the forest surrounding it for just 3.9 miles.