This Two-Tiered Waterfall In Alaska Is Definitely Worth The Hike
There are countless Alaska waterfalls, but very few easily accessible ones. This two-tiered waterfall in Juneau, Alaska at the end of a stunning hike is well worth the time it takes to trek out there. Prepare to be stunned when you come face to face with one of the most beautiful waterfalls in Alaska at Nugget Falls.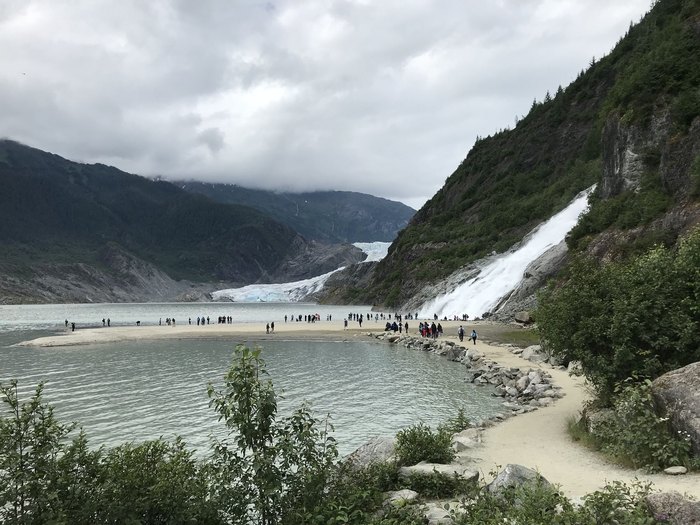 There are so many areas of Alaska that are simply breathtaking. And standing beneath this epic waterfall is definitely an experience of a lifetime. You can find out more about the Nugget Falls Trail in our featured article. Have you had the opportunity to get out to Juneau and hike this magnificent trail? What did you think of the two-tiered waterfall at the end? Let us know in the comments section!
If you're spending some time in Juneau, try out this beloved fish shack in Alaska that brings the sea straight to your plate!
OnlyInYourState may earn compensation through affiliate links in this article.
Address: Nugget Falls, 6000 Glacier Spur Road, Juneau, AK 99801
More Alaska waterfalls
April 26, 2023
What are some of the best waterfalls in Juneau, Alaska?
Alaska is a natural wonder all by itself. If you enjoy mountain views, forest hikes, and breathtaking waterfalls, a trip to this beautiful-but-wild state is in order and Juneau, Alaska is a great place to start. Here are a few of the best waterfalls and waterfall hikes in Juneau Alaska:
Salmon Creek Falls: What is better than a beautiful waterfall you don't have to hike far to enjoy? Juneau's Gold Creek Salmon Bake is an amazing opportunity to dine on all-you-can-eat local salmon in the most beautiful setting. Tours are available from late April to early October.
Juneau Creek Falls: This delightful waterfall is accessible via a trail through the Kenai Mountains in Cooper Landing. Around eight miles out-and-back and over fairly easy terrain will treat you to stunning mountain views, rich vegetation, and, of course, your final destination — Juneau Creek Falls. You can get up close and personal with this wonderfully impressive cascade.
Perseverance Trail: This stunning Alaskan hike passes two waterfalls through an old-growth forest and over a cool old wooden bridge. Another out-and-back trail about 4.6 miles in length, you'll enjoy amazing views of the Gold Creek Valley. Don't miss the side trail named The Glory Hole, which leads to an 800-foot chasm that was the result of miners digging for gold.
The Trail of Time: Start your journey to another stunning Juneau waterfall at the Mendenhall Visitors Center. It's a pretty impressive sight in and of itself. Most people are familiar with the trail that leads to Nugget Falls, but this smaller 1.1-mile trail is just as impressive. Keep a lookout for peekaboo views of the Mendenhall Glacier. There are plenty of mountain streams, wildlife, and small waterfalls to enjoy along the trail. The biggest waterfall on this trail isn't as impressive as Nugget Falls, but it is still a delightful cascade over a group of rock layers.