The Hurricane Gulch Bridge Is One Of The Tallest Bridges In Alaska
Alaska is built from a series of mountains and valleys, starting at sea level on the coast, and hitting elevations of more than 20,000 feet on our tallest mountain, Denali, the highest mountain peak in North America. So naturally, we will need some impressive bridges to get us across this vast state. The Hurricane Gulch Bridge in Alaska is one of the tallest bridges in the state, only surpassed in height by the railroad bridge of the same name. This is one bridge that you need to see up close and in person, if only so you can see the incredible views of the valley beneath it!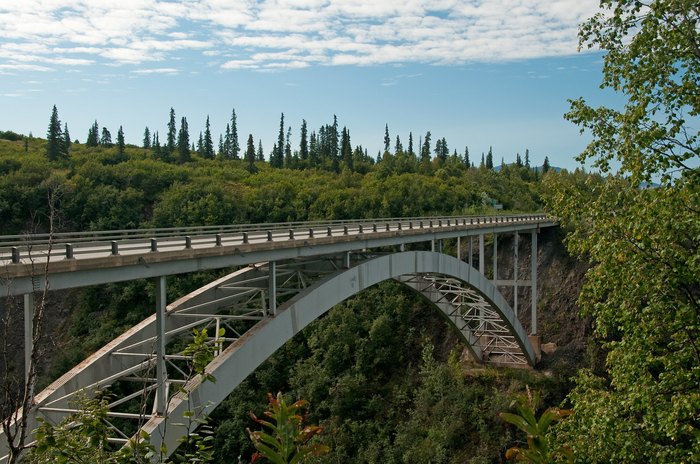 Have you ever visited the Hurricane Gulch Bridge in Alaska? What did you think? Was it amazing? Did you get any great photos? Let us know in the comments below!
If you're traveling this highway, there are plenty of things to see and experience in the area. Make sure to learn more about the nearby national park, with 15 Fascinating Things You Probably Didn't Know About Denali National Park.
OnlyInYourState may earn compensation through affiliate links in this article.
Address: Parks Hwy, Cantwell, AK 99729, USA
Hurricane Gulch Bridge In Alaska
December 08, 2020
Are there a lot of bridges in Alaska?
There are 1,134 bridges in Alaska. This seems like a lot, until you look at the amount of bridges  California has, which 25,771. Or Texas, who has the most bridges of any state, over 54,400 road bridges! Alaska doesn't have many road bridges because most of the state isn't accessible by road.
How many miles of highway are in the state of Alaska?
Alaska has 14,336 miles of highway in the state. This number includes highways in the both national parks and within the forests of Alaska. The longest highway in Alaska is A-1, which connects the Glenn Highway to the Richardson Highway, to the Tok-Cut Off, and then part of the Alaska Highway before it enters into Canada. That highway is 408.23 miles long.