Posted in Alaska
October 07, 2021
This Haunted Road Trip Will Lead You To The Scariest Places In Alaska
There is nothing quite like hitting the open road in the last frontier. As the daylight begins to fade, the darkness takes over and the temps drop to bone-chilling levels, it's the perfect time to enjoy a spooky road trip. With hundreds of miles and millions of acres of wide open spaces, you're sure to see a fair share of wild encounters along the way. Alaska is filled with creepy haunted stories dating back to the 1800s and ghosts from the past that linger around every corner. Are you ready to explore the most haunted places in Alaska?
The total trip takes about 11 hours of drive time and covers nearly 600 miles. We've included a link to the Google Map here.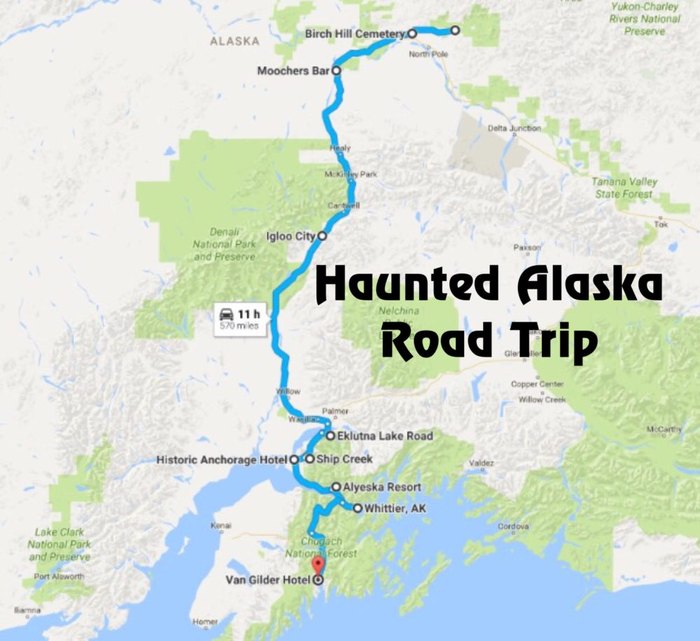 Have you encountered any ghosts in Alaska? Share your stories in the comments!
In keeping with the spooky spirit, get ready to meet these nine ghosts from Alaska and hear their bone-chilling stories. For more spooky reads, check out the truly creepy story behind this haunted hotel in Alaska. Also, these six hotels in Alaska are sure to make your stay a nightmare.
Address: Begich Towers, 100 Kenai St, Whittier, AK 99693, USA
Address: Cantwell, AK, USA
Address: Eklutna, Anchorage, AK 99567, USA
Address: Historic Anchorage Hotel, 330 E St, Anchorage, AK 99501, USA
Address: Whittier, AK 99693, USA
Address: Ship Creek, Alaska, Anchorage, AK, USA
Address: Birch Hill Cemetery, 100 City Lights Blvd, Fairbanks, AK 99712, USA
Address: Chena Hot Springs Road, Chena Hot Springs Rd, Alaska 99712, USA
Address: Alyeska Resort, 1000 Arlberg Ave, Girdwood, AK 99587, USA
Address: Moochers Bar, 814 N A, Nenana, AK 99760, USA
Address: Van Gilder Hotel, 308 Adams St, Seward, AK 99664, USA
Most Haunted Places In Alaska
August 22, 2019
What is the most famous ghost story from Alaska?
Several spooky stories surround the halls of Anchorage's West High School. Students and teachers have reported sightings of an elusive, spectral female figure. She often lingers in the auditorium, quietly lounging in the audience during productions. The ghost of a long-deceased janitor often sweeps the hallways after classes end. When people call out to him, he quickly vanishes. 
What is the most haunted town in Alaska?
Whittier, Alaska is one of the most haunted towns in the state. In addition to the city's 215 residents, several ghosts are known to flitter through the area. Most of them are seen floating around Begich Towers. You may hear spirits ominously whistling down the halls or stomping through empty rooms. In the middle of the night, residents have reported hearing a rustling in the kitchen. Maybe the ghost was getting a late night snack? Begich Towers is especially scary in the wintertime. When the roads are covered in snow, the locals can hardly leave the space! The town of Whittier is also home to the Buckner Building. This abandoned property has seen its fair share of paranormal activity. 
What is the creepiest abandoned place in Alaska?
In addition to The Buckner Building in Whittier and Igloo City in Denali National Park, the town of Kennicott has become completely abandoned. This once flourishing mining village now sits empty as a relic of the past. People have not inhabited this town since 1938. Today, visitors can walk through the dilapidated buildings and spooky roadways. What kind of ghosts will you encounter here?
Address: Begich Towers, 100 Kenai St, Whittier, AK 99693, USA
Address: Cantwell, AK, USA
Address: Eklutna, Anchorage, AK 99567, USA
Address: Historic Anchorage Hotel, 330 E St, Anchorage, AK 99501, USA
Address: Whittier, AK 99693, USA
Address: Ship Creek, Alaska, Anchorage, AK, USA
Address: Birch Hill Cemetery, 100 City Lights Blvd, Fairbanks, AK 99712, USA
Address: Chena Hot Springs Road, Chena Hot Springs Rd, Alaska 99712, USA
Address: Alyeska Resort, 1000 Arlberg Ave, Girdwood, AK 99587, USA
Address: Moochers Bar, 814 N A, Nenana, AK 99760, USA
Address: Van Gilder Hotel, 308 Adams St, Seward, AK 99664, USA