This Bizarre Phenomenon In Alaska Is Baffling Scientists
A lot of strange things are happening to the arctic in the modern era. One fascinating occurrence is that the long-frozen tundra and the ice in the ground beneath is thawing. This melting can flood soft ground and form mineral-rich lakes, especially in the Brooks Range and in the remote Alaskan wildlands. These are called thermokarst lakes. The gases releasing from below the ground bubble up through the lake and sometimes create the appearance that the lake is boiling. This is methane hissing and bubbling up through the water, creating an otherworldly effect.
Up to now, it was generally accepted that as the ice in the ground thawed, the lakes were formed and the frozen plant and animal remains started to decompose with the help of microbes. Methane was created from this decomposition and it bubbled up from the bottom of the lake into the air. But a lake discovered in the Brooks Range is showing that a pocket of methane of geologic origin is now bubbling through a far northern lake. This indicates that gasses may be released from underground resevoirs as the arctic thaws. This would mean the methane would be entering the atmosphere at a far greater rate than previously suspected. Research is ongoing and scientists will continue to figure out what the bubbling lakes mean for Alaska, the arctic and the planet as time goes on.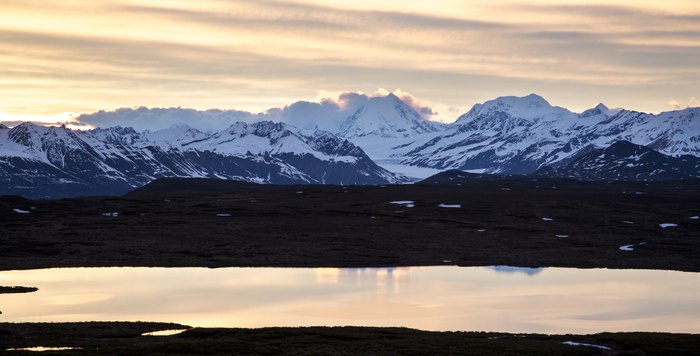 Scientists across the circumpolar north have observed this bizarre phenomenon. They have also found pockets of methane trapped under the ice in frozen lakes and lit them on fire. This video from interior Alaska shows the gas plumes flair up as the trapped methane is released and burned.
More on this bizarre phenomenon here.
If you live and love in Alaska, you'll know that Every True Alaskan Has Had These 11 Bizarre Experiences At Least Once. And you may be amused by these 8 Animals In Alaska That Made The News For Their Bizarre Appearances. How bizarre, how bizarre.
What do you know about this bizarre phenomenon? Tell us about it in the comments below!
OnlyInYourState may earn compensation through affiliate links in this article.